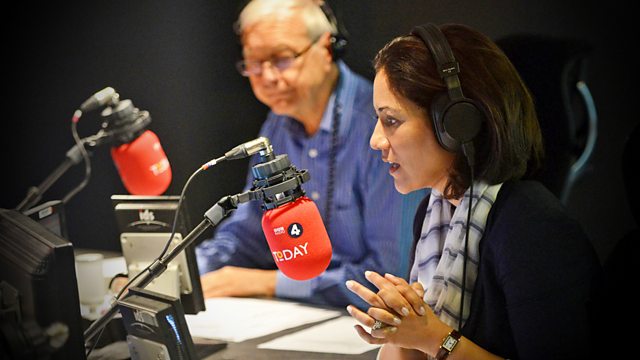 01/08/2008
Presented by Evan Davis and James Naughtie.
The Democratic and Republican candidates in 2008's US election must soon announce their vice presidential running mates. Does history suggest that the vice president can really affect the outcome of an election? Justin Webb reports.
A Jersey senator and a British MP have begun legal action against Jack Straw over the prosecution of historic child abuse cases in Jersey. Sanchia Berg reports. Esther Rantzen, the founder of Childline who recently visited Jersey to speak to those who lived in Haut de la Garenne, would like the UK to intervene.
The first steam railway engine to be built from scratch on British soil for 50 years is due to take its first trip under its own steam. Robert Hall reports.
Thought for the Day: With Catherine Pepinster, editor of The Tablet.
The big energy companies have announced increased profits, which leaves a door open to the government to impose a windfall tax. The list of Labour MPs calling for a new tax continues to grow. Iain Watson reports. Director-general of the CBI Richard Lambert is strongly against the idea.
The first Carry On film was screened in 1958. Actress Anita Harris, who had a role in two of the films, and Kim Leggatt, who is producing the next, discuss the genre.
Two Labour MPs say David Miliband should be sacked for disloyalty, as leadership speculation continues. How does David Miliband measure up as a PM? Steve Richards of The Independent offers his judgement and businessman and Labour donor Gulam Noon says Miliband is not going for the PM's position.
The government's energy policy is under pressure after the collapse of a deal between the French-owned EDF and British Energy. Business secretary John Hutton says the government is 'disappointed'.
Last on