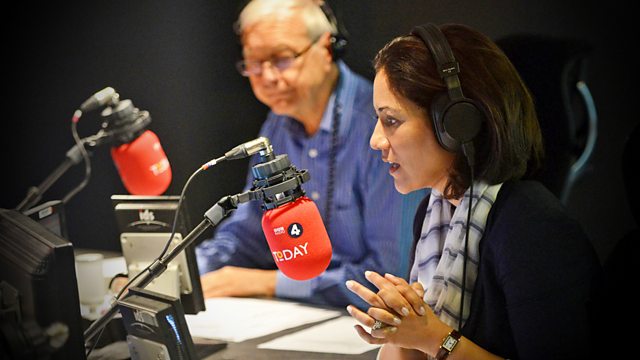 31/07/2008
Presented by Nick Robinson and James Naughtie.
Former Bosnian Serb leader Radovan Karadzic is due to be formally charged by the UN war crimes tribunal and has vowed to defend himself, as Slobodan Milosevic did. Steven Kay QC, one of two lawyers put on standby to defend Milosevic, says it should be easier to achieve a prosecution than it was with Milosevic.
A type of medieval calculator celebrated by Chaucer has been saved by the British Museum. Director of the Art Fund David Barrie explains the complications involved in the acquisition.
Thought for the Day: With Rev Roy Jenkins.
Defence solicitors have told the BBC they are concerned that criminals who should face prison are being given cautions and fixed penalties instead. Deputy chairman of the Magistrates' Association John Howson explains the concerns.
Police in Jersey have found partial remains of at least five children at the site of a former children's home. But deputy police chief Lenny Harper thinks it is unlikely a murder inquiry will be opened because experts have been unable to date the remains accurately. Harper, who has been leading the abuse inquiry, speaks to reporter Sanchia Berg.
The BFI is running a Clint Eastwood season where The Good, the Bad and the Ugly will take centre stage. Film critic Derek Malcolm and author Toby Young discuss whether any genre gives us such an insight into the American psyche as the western.
The government has published a consultation on ways to improve how video games are classified. Culture minister Margaret Hodge says the games market has outgrown the classification system.
Glenn Gould was one of the best pianists of the 20th century. American journalist Katie Hafner, who has written a new book him, explains her interest in the eccentric musician.
Last on
Call 0800 082 82 84 to donate to the Radio 4 Christmas Appeal
Life Inside 'Islamic State': Diaries