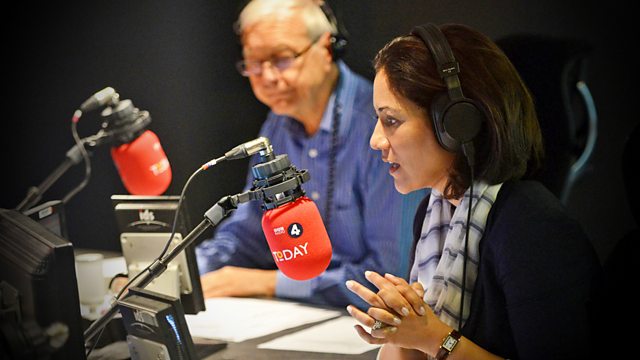 29/07/2008
Presented by Nick Robinson and Evan Davis.
Including:
The Foreign Office has admitted a serious breach of security following the theft of 3,000 blank passports and visas in transit from Manchester to London. Treeva Fenwick reports. Tom Craig of information security company Amarlis explains how the theft could have happened
Barack Obama has returned home following his world tour and is preparing for the battle with John McCain. North America editor Justin Webb discusses the campaign trail as it enters the home straight.
Shadow Work and Pensions Secretary Chris Grayling is to give a speech in Liverpool on social division and inequality. He discusses whether the Conservatives can be the party for equality.
Britain's frog population is suffering from two catastrophic diseases. Zoologists are keen to find out more and want people to log reports of dead frogs. Dr Andrew Cunningham of London Zoo explains what they want to find out.
Thought for the Day with Anne Atkins, novelist and columnist.
Chancellor Alistair Darling announced a review of the mortgage market on April 9. Liberal Democrat Treasury spokesman Vince Cable and Sir George Cox, formerly of mortgage lender Bradford and Bingley, discuss how the market can recover.
A medical student with dyslexia is taking legal action against the General Medical Council to change the way doctors are trained. Angus Crawford reports.
Could next month's Olympics in Beijing risk being a fun-free zone? The number of overseas visitors has plummeted due to tighter visa rules and heightened security, while bars and restaurants have tighter restrictions on opening hours. Correspondent Quentin Sommerville reports.
Last on
So you think you know the Today programme?