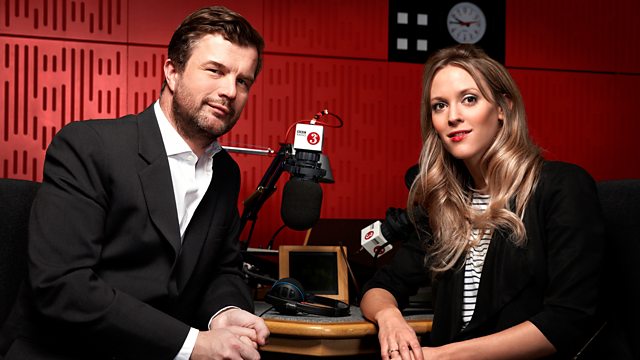 26/07/2008
With Martin Handley.
Including:
Handel: Sinfonia to Athalia
Academy of Ancient Music
Christopher Hogwood (conductor)
L'OISEAU LYRE 417 1262
Enescu: Cantabile and Presto
Sharon Bezaly (flute)
Roland Pontinen (piano)
BIS CD 1239
Grainger: Australian Up-country Song; A Song of Varmeland
Polyphony
Stephen Layton (conductor)
HYPERION CDA 66793
Bach: Concerto in G, BWV 592
Marie-Claire Alain (organ)
ERATO 4509967442
Chausson: La tempate, Op 18
BBC Philharmonic
Yan Pascal Tortelier (conductor)
CHANDOS 9650
Mozart: Wind Divertimento in B Flat, K270
Berlin Philharmonic Wind Ensemble
ORFEO C152 861A(CD)
Chopin: Polonaise in A flat, Op 53
Alfred Brendel (piano)
VANGUARD CLASSICS 08402371
Bax: Mediterranean
London Philharmonic Orchestra
Bryden Thomson (conductor)
CHANDOS CHAN 8494
Prokofiev, transcr. Chiu: Lieutenant Kije Suite
Frederic Chiu (piano)
HARMONIA MUNDI HMX 2907301.10
Mondonville: Sonata No 5, Op 3
Les Musiciens du Louvre
Marc Minkowski (director)
ARCHIV 457 6002
Arnold: Concerto for harmonica and orchestra, Op 46
Tommy Reilly (harmonica)
Basel Radio Symphony Orchestra
Cedric Dumont (conductor)
CHANDOS 9248
Gurney: Black Stitchel
Anthony Rolfe Johnson (tenor)
David Willison (piano)
EMI 5759262
Anon: Gloria (Mass of Tournai)
Trio Mediaeval
ECM 461 782-2
Scriabin: Romance
Rachmaninov: Lied
Steven Isserlis (cello)
Thomas Ades (piano)
RCA 09026 689282
Haydn: Insanae et Vanae Curae
Monteverdi Choir
John Eliot Gardiner (conductor)
PHILIPS 470 8192.
Last on