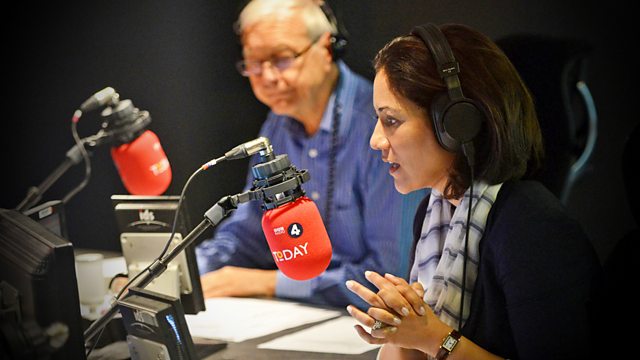 26/07/2008
Presented by Nick Robinson and Evan Davis.
Including:
Radovan Karadzic has appealed against his transfer to the UN war crimes tribunal in the Hague. Helen Fawkes reports from Belgrade.
US baseball is increasingly featuring players from the Dominican Republic. Nick Davis reports from Santo Domingo.
Police in Cornwall are imposing curfews on young people in an attempt to tackle antisocial behaviour. On the Close Hill Estate in Redruth, a curfew will run throughout the summer holidays. Charlotte Ashton reports.
Thought for the Day with Reverend Rob Marshall, an Anglican priest.
Amy Barry of Oxfam and EU Commissioner Peter Mandelson discuss the current global trade talks.
In his recent book Beijing Coma, human rights activist Ma Jian suggests China has become a nation of amnesia sufferers and that remembering the country's recent troubled history has become a crime.
Mick Jagger is 65 today. As if to prove that their global appeal remains, the Rolling Stones have switched their record label from EMI to Universal Music Group. Neil McCormick, rock critic of The Daily Telegraph, discusses the difficulties facing ageing rock stars.
Ben and Jerry's ice cream has been on sale for 30 years. Its recent advertising campaign gives a relatively cuddly impression of the company which is owned by Unilever. Jerry Greenfield of Ben and Jerry's and Richard D North of the Institute of Economic Affairs discuss whether 'caring capitalism' works.
Last on