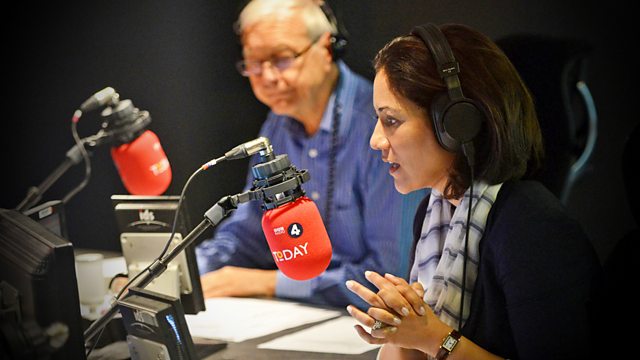 14/07/2008
Presented by Sarah Montague and Evan Davis.
Including:
The presidents of East Timor and Indonesia are expected to acknowledge the role of state institutions in crimes against humanity committed during East Timor's vote for independence in 1999. Lucy Williamson reports.
The National Association of Head Teachers wants this year's SATs tests to be annulled. General Secretary Mick Brookes explains.
Thought for the Day with Clifford Longley.
The US government has announced measures to shore up the nation's two largest mortgage finance companies. Business editor Robert Peston and LSE director Howard Davies discuss the implications.
Young people who are caught carrying knives will be made to visit stab victims in hospital. Alf Hitchcock of the Metropolitan Police Service, and Donald Mackechnie of the college of emergency medicine discuss how this will work.
Adam Shaw reports on a takeover bid for Alliance and Leicester.
Clare Wigfall has won The BBC National Short Story Award for 2008. Arts correspondent Rebecca Jones reports.
A senior Israeli defence official has told the BBC that Israel is considering all options, including military attack, to prevent Iran from obtaining nuclear weapons. Paul Wood reports.
Tony James and Mick Jones from the band Carbon/Silicon and Adrian Crooks of the Performing Rights Society discuss how musicians get paid when their work is downloaded for free.
Gay Bishop Gene Robinson had to stop his sermon in a West London church yesterday when he was heckled. Comedian Jo Brand and Labour MP Stephen Pound discuss what makes a good heckle and how best to deal with it.
Former education secretary Baroness Morris and Anastasia De Wall of Think tank Civitas discuss whether too much is expected of our schools.
Last on