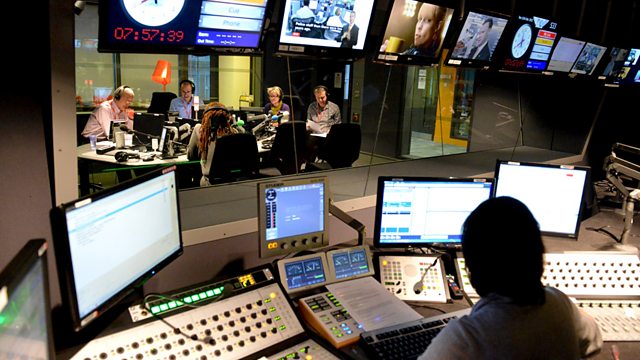 04/07/2008
Presented by John Humphrys and Edward Stourton.
Including:
Why is Kashmir suddenly back in the news? Chris Morris reports.
Lord Krebs and the government's former chief scientist David King debate the issue of badger culling in England to control TB.
The Jamaican government has suspended the trade in scrap metal due to widespread theft which is endangering the country's infrastructure. Nick Davis reports from Kingston.
Thought for the Day with Rev Roy Jenkins.
In a speech last night Lord Phillips explicitly defended the Archbishop of Canterbury's comments on sharia law earlier this year. Inayat Bunglawala of the Muslim Council of Britain and Lib Dem peer Lord Lester discuss.
MPs have voted to keep their second home allowances but not to award themselves above-inflation pay rises. Labour MP and former minister Peter Kilfoyle and Liberal Democrat MP Nick Harvey discuss.
Alex Allen, who coordinates intelligence on threats to the UK's national security, is seriously ill in hospital. Security correspondent Gordon Corera reports.
Author Penelope Lively announces the shortlist for the BBC's National Short Story Award. Last year's winner Julian Gough discusses the nominations.
The Bar Council is not impressed by the portrayal of barristers and solicitors in the new BBC drama Criminal Justice. Timothy Dutton QC and Guardian journalist Eric Allison debate whether those who practise law are more interested in winning the case than the pursuit of justice.
Kareem Salama, said to be the world's first Muslim country and western singer, plays one of his songs and discusses his credentials with country music writer Sid Griffin.
Last on