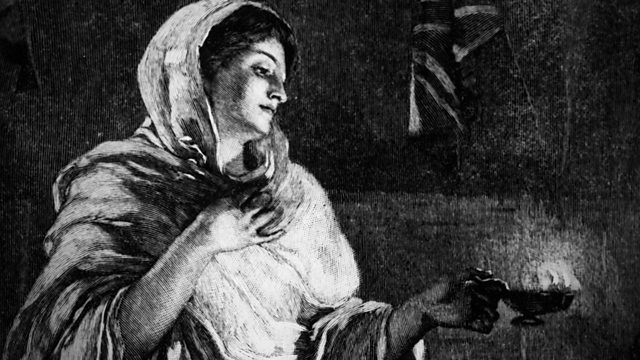 Florence Nightingale
Drama about the life of Florence Nightingale, based largely on her own words, which tells the true and unexpected story behind this most unusual woman - adored by the masses, hated by the few and credited by historians as the brilliant birth-mother of modern nursing.
Bringing to life the story of Florence Nightingale's spiritual and emotional revolution after the Crimean War - a moment of crisis, doubt and failure that ultimately inspired her career in medicine - the film features a raucous music hall troupe, who dip in and out of the action with songs in the style of the times.
Bent on vengeance, Florence badgers the authorities into allowing her to investigate the ineptitude of the military commanders through a Royal Commission. This ultimately leads to despair, however, and forces Florence to withdraw from even her closest family following a complete breakdown and a massive crisis of faith.
Credits
| Role | Contributor |
| --- | --- |
| Florence Nightingale | Laura Fraser |
| WEN | Michael Pennington |
| Music Hall barker | Roy Hudd |
| Fanny | Barbara Marten |
| Parthenope | Catherine Tyldesley |
| Palmerston | Andrew Harrison |
| Sir Sydney Herbert | Ian Bartholomew |
| Mother Mary Clare | Olwen May |
| Richard Monckton-Milnes | Paul Opacic |
| Dr Farr | Sean McKenzie |
| Watson | Lorraine Cheshire |
| The Colonel | Keith Clifford |
| Fitzgerald | Tim Beasley |
| Director | Norman Stone |
| Writer | Norman Stone |