Lauren Laverne
Music and chat with Lauren Laverne.
First plays, latest music online, emerging talent & new tunes from returning favourites.
Compilation of the Week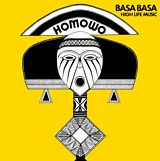 HOMOWO BY BASA BASA
(Vintage Voudou)
Translated into English, Basa Basa means chaos. The band was founded by identical twins Joe and John Nyaku and their music was honed during their years serving as the house band in Ghana's Napoleon Club.
Fela Kuti believed the identical twins of Basa Basa possessed magical powers, bringing luck and prosperity. Fela co-produced their first LP, and played on their second. But this album was produced by the brilliantly named Themba "T-Fire" Matebese.
First released in Nigeria in 1979, this LP (also known as Basa Basa Experience - Together We Win) is inspired by Ghanaian traditional music, soul and Afrobeat, with added disco elements, synthesizers and the production aesthetics of the next decade.
Vintage Voudou have made this highly-sought after LP available again, after almost four decades. The re-issue includes a poster and extended liner notes.