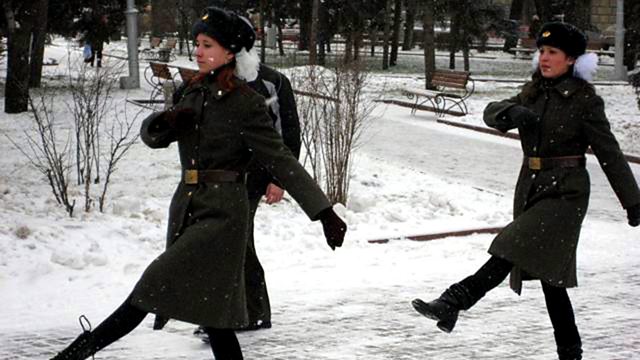 Motherland
Jonathan Dimbleby explores ten thousand miles of Russia.
The symbol of Russian patriotism is the River Volga which runs from above Moscow through the heart of Russia to the Caspian Sea. Not far from the port of Astrakhan is a tiny village that was once the great capital of the Golden Horde. He arrives there in February when the biting wind chills to the bone, and is astonished to find how little remains of the western capital of Genghiz Khan's massive empire.
In Volgograd, the former Stalingrad, he meets Svetlana Argatseva, a woman who thinks Stalin has been misunderstood and discovers that she is not alone.
In Samara, once a secret armaments city closed to all foreigners, it is Victory Day. Traditionally families take offerings of food and drink to the graves of their departed loved ones in the city's cemeteries. Jonathan joins them and finds that a stranger is welcome even at this most intimate family occasion. It is also the time when new recruits are called up for military service.
A sobering meeting is with journalist Sergei Kurt-Adjiev. He works for Novaya Gazeta, one of the few publications that has refused to take the government line. Sergei is subject to constant harassment by the police.
Jonathan travels past Kazan - the place where Ivan the Terrible finally smashed the rule of the Mongols - towards Perm. Just beyond Perm is the site of one of the last camps for political prisoners. Jonathan meets a former inmate, who shows him round the solitary confinement block and describes what it was like in the subzero winters.
His final stop is in the Ural Mountains, now a place popular with off-roaders and hunters. This is the boundary between Europe and Asia, between ancient Russia and the land empire they conquered stretching to the Pacific.
Last on
Credits
| Role | Contributor |
| --- | --- |
| Presenter | Jonathan Dimbleby |
| Writer | Jonathan Dimbleby |
| Producer | Jamie Muir |
| Director | Jamie Muir |