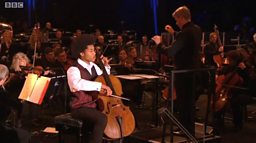 Sheku played Haydn with the BBC National Orchestra of Wales
BBC Young Musician
Showcasing the UK's brightest young musical talent for over 30 years.
On iPlayer
This programme is not currently available on BBC iPlayer
On TV
There are no upcoming broadcasts of this programme
Last on
Sun 15 May 2016 19:30
BBC Radio 3
See Sheku Kanneh-Mason perform at the final on the 15th May.
A winner's story - Martin James Bartlett (piano)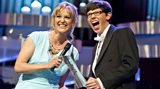 Martin reached the Category Final in 2012, so he knew what to expect when he entered BBC Young Musician 2014. He came back, he says, "to grow and develop not only as a pianist but as a musician. And to have to opportunity to perform for world-class musicians". Making it to the Final, and performing Rachmaninov's Rhapsody on a Theme of Paganini with the BBC Scottish Symphony Orchestra and Kirill Karabits was a whole other experience.  "The most nerve-wracking moment was standing backstage with Kirill, looking into a packed Usher Hall, knowing that in a few moments I would be performing to a panel of distinguished judges and the BBC Four and Radio 3 audiences. When I walked back off stage, I had no recollection of what I had just done. I was concentrating so hard and totally immersed in the music."
Nothing has been quite the same for Martin since that extraordinary night in Edinburgh. "I have had so many wonderful experiences and opportunities since winning. I was one of 27 international artists, alongside Stevie Wonder, Elton John and Nicola Benedetti, to be chosen to record the new version of the Beach Boys song God Only Knows produced by BBC Music. In 2014 I performed at BBC Proms in the Park and this year I will be at the Royal Albert Hall, playing in a Prom with Eric Whitacre and the Royal Philharmonic Orchestra. I have performed concertos at the Queen Elizabeth Hall, Cadogan Hall, St John's Smith Square and Kings Place and made my debut with the Bournemouth Symphony Orchestra. I'll also be performing with the BBC Concert Orchestra at the opening night of this year's Cheltenham Music Festival."
According to Martin, BBC Young Musician is an experience worth having, with or without the prize money, the contract with YCAT and the big career boost that the winner enjoys. "It has been the most wonderful experience of my life. The overwhelming feeling among the other competitors was of comradeship and support, and there were so many exciting, enjoyable moments that I will never forget - I had many laughs and a lot of fun. BBC Young Musician has helped me to mature as a musician, expand my musical horizons and has inspired me to work harder and achieve my dreams." And his advice for those taking part in 2015?  "The music is the most important thing so just go out there and give the best performance you can. Regardless of the result it is a totally life-changing experience. Enjoy every moment!"
Martin will return to BBC Young Musician in 2016 to perform at the Final on 15th May.