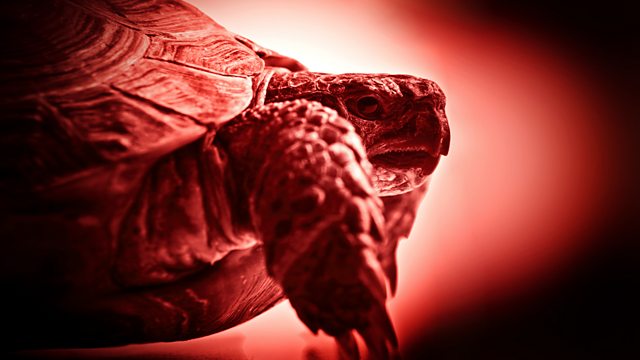 In the city of the Citadel, novice Brutha stands up to the devious Deacon Vorbus. Stars Anton Lesser and Patrick Barlow.
Synopsis:
There are gods everywhere on Terry Pratchett's Discworld - you can't swing a simian librarian without hitting one - except, of course, only a few people can see them. Each small god lies in wait, desperately seeking to make someone believe in him. On the Discworld gods need people more than people need gods, for belief is the food of the gods.
Brutha, a tubby novice-priest with a phenomenal memory, is chosen as the one true Prophet. Will he succeed in bringing belief back to Omnia? The great God Om is currently stuck in the body of a small tortoise. He is ready for smiting and other godly activities if only he could get out of the basket of rotting vegetables into which he has fallen Meanwhile Deacon Vorbis rules this harsh desert country and the Quisition works tirelessly to beat sin out of its people. Vorbis is all set to expand his empire and recruits Brutha with his incredible memory to help him.
Brutha accompanies Deacon Vorbis to the land of Ephebe where philosophers cover the landscape like locusts, argue violently among themselves, and live in barrels. One such philosopher is Didactylos, whose philosophy can be boiled down to the words "It's a funny old world." He now becomes the unifying part of an underground movement that insists, despite the tenets of the Church that "the Turtle moves"; that turtle being the Great A'Tuin - the whole of Discworld rides on its giant shell. As so often happens, religious dispute breeds war, and the future of Omnia, not to mention the future of the Great God Om, is in Brutha's hands.
Cast: Anton Lesser narrates, Patrick Barlow is the Great God Om and Alex Jennings is Deacon Vorbis. Carl Prekopp is Brutha and Michael Kilgarriff plays Death.
The rest of the cast includes Geoffrey Beevers, Philip Fox, Sean Barrett, Gerard McDermott, John Cummins, Nick Sayce
Terry Pratchett worked for many years as a journalist and press officer, writing in his spare time and publishing a number of novels, including his first Discworld novel, The Color of Magic, in 1983. In 1987 he turned to writing full time, and has not looked back since. To date there are a total of 33 books in the Discworld series, of which three (so far) are written for children. The first of these, The Amazing Maurice and His Educated Rodents, won the Carnegie Medal. His new Discworld novel, Thud!, was published autumn 2005. Regarded as one of the most significant contemporary English-language satirists, Pratchett has won numerous literary awards, was named an Officer of the British Empire "for services to literature" in 1998, and has received four honorary doctorates from the Universities of Warwick, Portsmouth, Bath, and Bristol. His acclaimed novels have sold 40 million copies worldwide and have been translated into 33 languages.
Robin Brooks dramatised Terry Pratchett's 'Mort' for late night Radio 4. Other R4 dramatisations include Daphne Du Maurier's The Parasites, Love and Friendship adapted from Jane Austen, and Byron's Women. Also for R4 an original comedy A Quick Change, Bloody Stefi a play about Bartok and The Man Who Knew Everything, three original plays about the infamous solicitor, George Lewis.
ProducerClaire Grove.
Last on