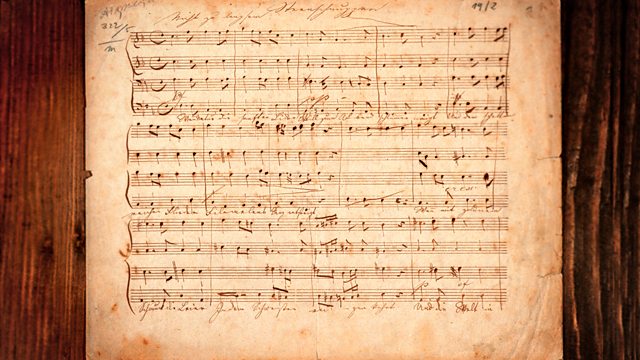 04/05/2008
With Alison Steadman and Timothy West reading a selection of verse on the theme of food and drink.
Producers Notes
This edition of Words and Music is about Food. Mussels, Chocolates, Anchovies, Peaches, Whipped Cream, Oysters, Trout, Pies and Eggs are just some of the ingredients.
Alison Steadman reads Moules a la Mariniere by Elizabeth Garrett, Mushrooms by Sylvia Plath and Blackberry-picking by Seamus Heaney.
Timothy West's poems include Hillaire Belloc's On Food, Elizabeth Bishop's The Fish and Ben Jonson's Inviting a Friend to Supper.
Interwoven with the poetry is music such as Schubert's Trout Quintet, the chorus in Strauss' Die Fledermaus where the guests look forward to supper, and Biber's Mensa Sonora (music suitable to accompany aristocratic dining)
There's the "Rice aria" from Rossini's Tancredi, which the food loving composer apparently composed whilst waiting for his risotto to cook and Nellie Melba, the soprano who gave her name to the Peach Melba, sings the Melba Waltz.
Plus popular food music by Fats Waller (Hold Tight I Want Some Seafood Mama), The Beatles (Savoy Truffle) and Bob Dylan (Country Pie).
Perhaps the most peculiar choice is a medieval song about eggs
Tim Prosser (producer)
Details of readings and music
JOHANN HERMANN SCHEIN
Allemande from Banchetto Musicale No 2 in D
Hesperion XX, Jordi Savall
Tr 10 CDC 7492242
JOHN UPDIKE
Food
Alison Steadman (reader)
JOHANN STRAUSS II
A Supper-party's in store for us tonight
Die Fledermaus
Philharmonia Orchestra and Chorus
Herbert von Karajan
CD 2 tr 1 EMI 5670742
BEN JONSON
Inviting a Friend to Supper
Timothy West (reader)
HEINRICH IGNAZ FRANZ VON BIBER
Mensa Sonora (music suitable to accompany aristocratic dining)
The Purcell Quartet
Tr 4 Chandos 0748
ANON
Peas
Alison Steadman (reader)
NABOKOV
A Literary Dinner
Timothy West (reader)
HOLD TIGHT (I WANT SOME SEAFOOD MAMA)
Fats Waller
SEAMUS HEANEY
Blackberry-picking
Alison Steadman (reader)
MATTHIAS GREITER
Von Eyren (On Eggs - goose eggs, ducks' eggs, crabs' eggs, pigeon's eggs.)
The Orlando Consort
Tr 20 HMU 907314
ELIZABETH GARRETT
The Fish
Timothy West (reader)
FRANZ SCHUBERT
Andantino from The Trout Quintet in A (Op.114)
Alfred Brendel and the Cleveland Quartet
Tr 4 Philips 420 907 2
SYLVIA PLATH
Mushrooms
Alison Steadman (reader)
ERIK SATIE
Last movement from 3 Pieces of Pear
Dominique Merlet and Jean-Pierre Armengaud (pianos)
Tr 17 MAN 4882
LOUIS SIMPSON
Chocolates
Timothy West (reader)
GEORGE HARRISON
Savoy Truffle (from the White Album)
The Beatles
CD 2 tr 10 CDS 746443 8
CAROL ANN DUFFY
Chocs
Alison Steadman (reader)
TCHAIKOVSKY
Chocolate (Spanish Dance)
The London Philharmonic, Mariss Jansons
CD 2 tr 3 CDS 7546002
WALLACE STEVENS
A Dish of Peaches in Russia
Timothy West (reader)
ARDITI
Se saran rose (The Melba Waltz)
Nellie Melba (soprano)
Tr 16 Naxos 8 110335
HILAIRE BELLOC
On Food
Timothy West (reader)
ROSSINI
Anchovies (from the Quatre Hors-D'Oeuvre)
Lorenzo Bavaj (piano)
Tr 6 GB 50122
RUTH PITTER
Damson Boy
Alison Steadman (reader)
BOB DYLAN
Country Pie
SEAMUS HEANEY
Oysters
Timothy West (reader)
TELEMANN
Tafelmusic (Table Music)
Conclusion in D major
Musica Antiqua Koln, Reinhard Goebel
ELIZABETH GARRETT
Moules a la Mariniere
Alison Steadman (reader)
ROSSINI
Di tanti palpiti (Rice Aria from Tancredi)
Vesselina Kasarova (soprano)
Munich Radio Orchestra, Roberto Abbado
Tr 6 RCA 09026 683492
CZESLAW MILOSZ
The Dining Room
Timothy West (reader)
SAINT-SAENS
The Wedding Cake Waltz
Jean-Philippe Collard (piano)
Royal Philharmonic Orchestra, Andre Previn
Tr 4 EMI CDC 797572
CHRISTOPHER SMART
Epistle to Mrs Tyler
Timothy West (reader)
ANON
Si quis amat (A medieval round on table manners)
The Orlando Consort
Tr 7 HMU 907314
OSIP MANDELSTROM
Ice Cream
Alison Steadman (reader)
RICHARD STRAUSS
Dance of the Small Pralines from Schlagobers (Whipped Cream)
Detroit Symphony Orchestra, Neeme Jarvi
Tr 7 CHAN 9606
Last on