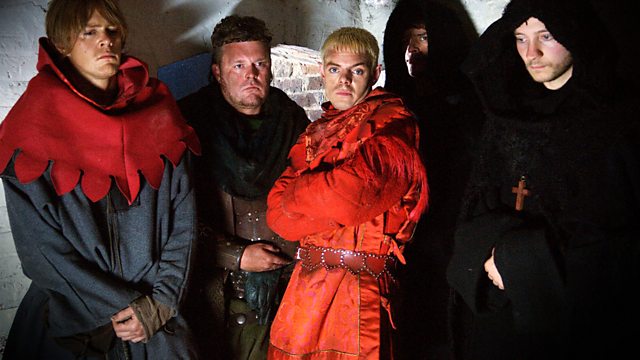 Heist
Drama based on the true story of an outrageous medieval heist, told in the style of Ocean's 11.
When Dick Puddlecote is released from a Flanders jail in 1302 to discover his friends, his livelihood and his woman are all in hock to the king, he decides to exact a very modern form of revenge - break into the vault at Westminster Abbey and steal the king's gold. There's just one catch - failure would earn him and his gang ruthless torture, swift punishment and potentially an eternity in hell.
A true story sourced from original trial records, this bold comedy-drama combines the energy of a British heist comedy with the veracity of factual dramas and the bawdiness of Chaucer, breathing life into a strange and foreign world full of priests and prostitutes.
Credits
| Role | Contributor |
| --- | --- |
| Dick Puddlecote | Kris Marshall |
| Joanna the Concubine | Geraldine James |
| King Edward | Donald Sumpter |
| Adam de Warefield | Paul Hilton |
| Will of the Palace | Tim Plester |
| John of Newmarket | Linal Haft |
| Irish Pete | Bennett Warden |
| Producer | Justin Hardy |
| Director | Justin Hardy |
| Producer | Susan Horth |
| Producer | Lucy Bassnett-McGuire |
| Writer | Peter Harness |