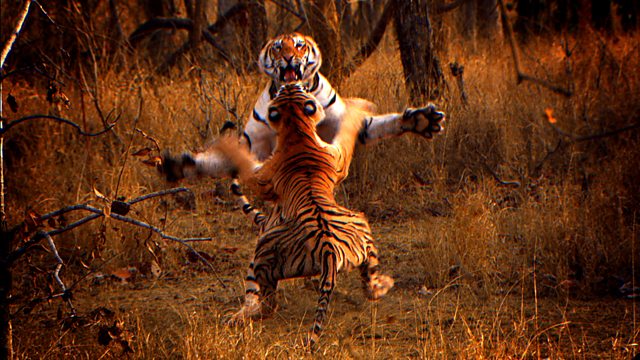 Wildlife documentary. David Attenborough narrates the lives of four growing tiger cubs using footage collected by hidden-camera-carrying elephants.
The half-grown cubs are learning the hunting and fighting skills they will need as adults. Play-fighting erupts between them - it looks nasty, but their claws are never drawn. These bouts of boxing, caught on ele-cams, create an extraordinary spectacle.
Other jungle characters are filmed with logcams. Leopards are a real threat to the growing cubs while the deer make good hunting practice. The young tigers have huge appetites and their mother must hunt every day if she is to keep them fit.
When they are not eating, playing or fighting, the cubs sleep - and tigers love water, so a water hole is the perfect spot to cool off on a steaming day. The spy-cams also show that the jungle pools are a magnet for a whole array of forest animals, including wild boars and sloth bears.
The cubs are starting to behave as individuals and take personal hunting tuition from their mother. Then disaster strikes when both their parents are injured and a rogue male tiger puts in an appearance. They still have a lot to learn.
Last on