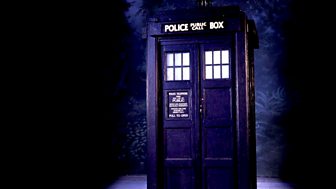 Doctor Who
Specially recorded audio dramas and readings from the time-travelling adventure series, featuring the First, Fourth, Fifth, Seventh and Eighth Doctors
On radio
There are no upcoming broadcasts of this programme
Last on
Sat 18 Feb 2017 00:00
BBC Radio 4 Extra
Actor Russell Tovey presents a special documentary celebrating 50 years of Doctor Who.

Live from The Doctor Who Celebration in London with a Tardis-ful of special Who guests.
Doctor Who 50th Anniversary on Radio 4 Extra
All programmes are available on BBC iPlayer for 7 days following their first broadcast.  The first two episodes of the dramas and readings are broadcast at 6pm with the full story broadcast at midnight.

Doctor Who and the Daleks - NEW to 4 Extra
Saturday 16th November
6.00 - 6.45pm - episodes 1 & 2 (repeated 12.00 - 4.30am - episodes 1 - 10)


A reading based on the original 1963 TV serial featuring the First Doctor and narrated by one of the first companions, Ian Chesterton (played by William Russell).
Nuclear threat looms large, no more so than on the radiation ravaged world of Skaro.  It's there the TARDIS heads for the Doctor's first meeting with the bane of all his travels ... the Daleks.
Protect and Survive
Sunday 17th November
6.00 - 6.45pm - episodes 1 & 2 (repeated 12.00 - 1.30am - episodes 1 - 4)


In this drama the seventh Doctor (played by Sylvester McCoy) and his young companions Hex and Ace are plunged into the late 80s, where history has gone terrifyingly wrong with the world trembling on the brink of a final terrible war.
Fanfare for the Common Men - NEW to 4 Extra
Monday 18th November
6.00 - 6.45pm - episodes 1 & 2 (repeated 12.00 - 1.18am - episodes 1 - 4)


A four-part drama featuring the fifth Doctor (Peter Davison).  The Doctor's young companion Nyssa is unfamiliar with the Earth's musical heritage but in a trip back to 60s the Beatles are nowhere to be seen and their role has been taken by the Common Men ...
A Thousand Tiny Wings
Tuesday 19th November
6.00 - 6.45pm (repeated 12.00 - 1.00am)
A full cast audio drama in which the seventh Doctor (Sylvester McCoy) arrives in a remote homestead during the period of Kenyan independence in December 1963 and is reunited with an old acquaintance - an ex-Nazi called Klein.
Farewell Great Macedon - NEW to 4 Extra
Wednesday 20th November
6.00 - 6.45pm (repeated 12.00 - 1.00am)
Based on an unproduced television script and brought to life through a combination of performance and narration.  The original team of the first Doctor and companions Ian, Barbara and Susan step out from the TARDIS into the Hanging Gardens of Babylon and meet Alexander the Great.
Human Resources
Thursday 21st November
6.00 - 6.45pm (repeated 12.00 - 12.52am)
A full cast drama featuring the eighth doctor (played by Paul McGann).  The two-part story explains the on-going mystery of Lucie Miller (Sheridan Smith), paired off with the Doctor in a witness protection programme.
Blue Veils and Golden Sands

Friday 22nd November
11.15am (repeated 9.15pm and 4.15am)


The remarkable story of pioneering BBC Radiophonic Workshop music composer Delia Derbyshire. Starring Sophie Thompson.
The Dalek Invasion of Earth
Friday 22nd November
6.00 - 6.45pm (repeated 12.00 - 1.00am)
A reading by William Russell (Ian Chesterton in the original TV serial on which the story is based).  This is one of the classic Doctor Who stories featuring the first Doctor and set in an occupied Britain.
Doctor Who special - Who Made Who - NEW to 4 Extra
Saturday 23rd November
9.00am - 12.00pm (repeated 4.00 - 7.00pm)
Tracy-Ann Oberman is the guide on a journey back to a time before Time Lords.  Interviewees include Doctor Who writers Charlie Higson and AL Kennedy and William Hartnell's grand-daughter.  Featured programmes include 'The Reunion', which gathers the original 1963 cast and 'Whatever Happened to ... Susan Foreman?' which tries to solve the mystery of the The Doctor's original travelling companion, his grand-daughter.
Lucie Miller
Sunday 24th November
12.00am
An Eighth Doctor adventure starring Paul McGann, Sheridan Smith and Graeme Garden.
To the Death
Sunday 24th November
6.00pm (repeated 12.00am)
The Time Lord calls on friends, family and the Monk to help overthrow the Dalek occupation of Earth. Eighth Doctor adventure stars Paul McGann, Sheridan Smith and Graeme Garden.
Enter the World of Doctor Who
More Doctor Who from Radio 4