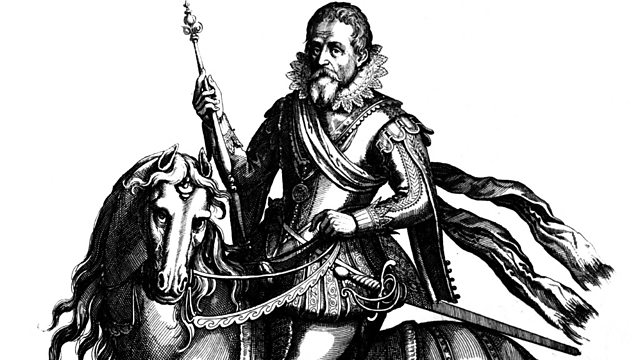 Donald Macleod explores the music and musicians of James' time through key moments in his reign.
Prince Henry, James' ill-fated eldest son, followed in his father's footseps when he employed a court of his own, using many of the leading musicians of the age.
Robert Johnson: Courant
VIRGIN VC 759321 2, Tr 20
Tallis: Sing and Glorify
The Sixteen
Harry Christophers (director)
CORO CORSACD 16016, Tr 9
Alfonso Ferrabosco II: Dovehouse Pavan
Hespèrion XXI
Jordi Savall (director)
ALIA VOX AV9832, Tr 1
Almaine
Hespèrion XXI
Jordi Savall (director)
ALIA VOX AV9832, Tr 2
Johnson: The Fairies' Dance (The Masque of Oberon)
A Ferrabosco II: The Solemn Rites are Well Begun
Johnson: The First of the Princes
The Musicians of the Globe
Philip Pickett (director)
PHILIPS 4462172 t16-18
Thomas Lupo: Ardo, Sì (1st part); Ardi et Gela (2nd part)
The English Fantasy
ASV CD GAU 149, Trs 1-2
Campion: All Looks be Pale
Michael Chance (countertenor)
Nigel North (lute)
LINN CKD105, Tr 11
Coperario: Suite No 12 in D minor
Le Concert Francais
ASTRÉE AUVIDIS E8504, Trs 22-24
Alfonso Ferrabosco II: Four-note Pavan
Connor Burrowes (treble)
Amsterdam Loeki Stardust Quartet
CHANNEL CLASSICS CCS 9196, Tr 18.
Last on