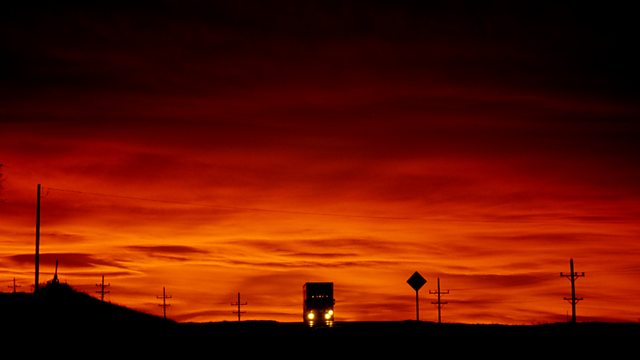 16/03/2008
With Jonathan Swain.
1.00am
Shostakovich, Dmitry (1906-1975): Cello Sonata in D minor, Op 40
1.26am
Britten, Benjamin (1913-1976): Suite No 3 for solo cello, Op 87
1.48am
Bridge, Frank (1879-1941): Sonata for cello and piano in D minor, H125
2.12am
Elgar, Edward (1857-1934): In Moonlight; Salut d'amour; Chanson du matin
Natalie Clein (cello)
Kathryn Stott (piano)
2.22am
Kodaly, Zoltan (1882-1967): Laudes Organi
Istvan Ella (organ)
Chamber Choir of Pecs
Aurel Tillai (conductor)
2.42am
Trad. Hungarian, arr. unknown: Early 12th century Hungarian Dances
Bulgarian Academic Wind Quintet
2.53am
Chopin, Fryderyk (1810-1849): 24 Preludes for piano, Op 28
Nikita Magaloff (piano)
3.31am
Smetana, Bedrich (1824 -1884): String Quartet No 1 in E minor (From My Life)
Vertavo Quartet
4.01am
Dohnanyi, Erno (1877-1960): Symphonic Minutes, Op 36
West Australian Symphony Orchestra
Jorge Mester (conductor)
4.4am
Forqueray, Antoine (1672-1745): La Regente (Pieces de viole)
Pierre Pitzl, Mary Jean Bolli (violas da gamba)
Luciano Contini (archlute)
Augusta Campagne (harpsichord)
4.21am
Scarlatti, Alessandro (1660-1725): Ero's aria - Leandro, anima mia (Ero e Leandro)
Gerard Lesne (countertenor)
Il Seminario Musicale
4.32am
Bronnemuller, Elias (1666-1761): Toccatina No 1 in D (Fasciculus Musicus)
Peter van Dijk (organ)
4.37am
Vaughan Williams, Ralph (1872-1958): Serenade to Music
Bette Cosar (soprano)
Delia Wallis (mezzo-soprano)
Edd Wright (tenor)
Gary Dahl (bass)
Alexander Skwortsow (violin)
Vancouver Bach Choir
Vancouver Symphony Orchestra
Bruce Pullan (conductor)
4.51am
Zagar, Peter (b.1961): Blumenthal Dance No 2 for violin, viola, cello, clarinet and piano
Opera Aperta.
Last on