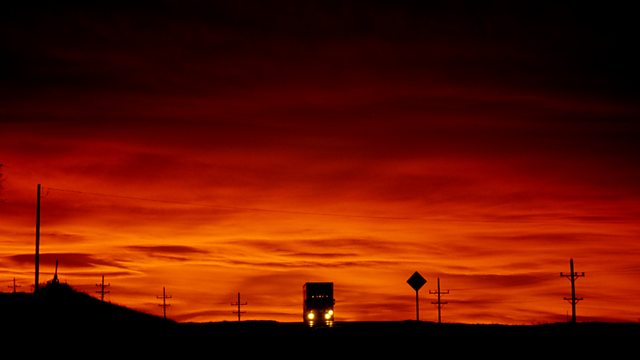 Through the Night
With Jonathan Swain.
4.34am
Francoeur, Francois (1698-1787), arr. Trowell: Sonata in E
Monica Leskhovar (cello)
Ivana Schwartz (piano)
4.45am
Finzi, Gerald (1901-1956): All This Night, Op 33
Holst, Gustav (1874-1934): The Evening-Watch, Op 43 No 1
BBC Singers
Bob Chilcott (conductor)
4.54am
Paganini, Niccolo (1782-1840): Perpetuum mobile, Op 11 No 2
Oslo Philharmonic Orchestra
Nello Santi (conductor)
5.00am
Grieg, Edvard Hagerup (1843-1907): Norwegian Dance No 1, Op 35
Bergen Philharmonic Orchestra
Andrew Litton (conductor)
5.06am
Wingfield, Steven (b.1955): Three Bulgarian Dances (arr. Wingfield, for violin and guitar)
Moshe Hammer (violin)
William Beauvais (guitar)
5.13am
Goleminov, Marin (1908-2000): Five Sketches for Strings (1952)
Sofia Soloists Chamber Ensemble
Vassil Kazandjiev (conductor)
5.29am
Ciurlionis, Mikalojus Konstantinas (1875-1911): De profundis
Kaunas State Choir
Lithuanian National Symphony Orchestra
Petras Bingelis (conductor)
5.38am
Muffat, Georg (1653-1704): Toccata octava in G (Apparatus musico-organisticus, 1690)
Marcel Verheggen (organ)
5.47am
Bovicelli, Giovanni Battista (c.1550-c.1597): Diminutionen on Palestrina's Lo son ferito for cornet and bass continuo
Le Concert Brise
5.53am
Mozart, Wolfgang Amadeus (1756-1791): Rondo in D, K485
Andras Schiff (piano)
6.00am
Haydn, Joseph (1732-1809): Piano Trio in E, H XV 28
Beaux Arts Trio
6.17am
Mendelssohn, Felix (1809-1847): Symphony No 5 in D, Op 107 (Reformation)
Norwegian Radio Orchestra
Vytautas Lukocius (conductor)
6.47am
Part, Arvo (b.1935): Salve regina for choir and organ
Estonian Philharmonic Chamber Choir
Paul Hillier (conductor).
Last on