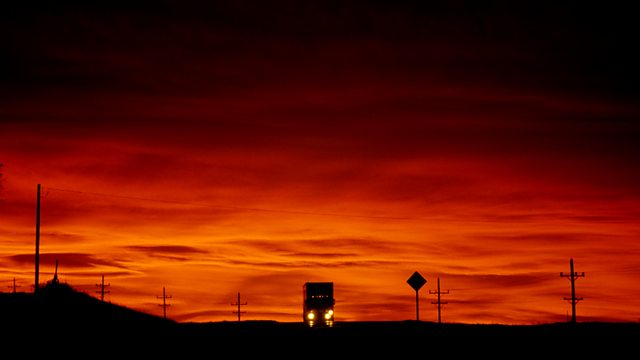 Through the Night
With Susan Sharpe.
4.29am
Bach, Carl Philipp Emanuel (1714-1788): Fugue in D minor
Wim Diepenhorst (organ)
4.32am
Franck, Cesar (1822-1890): Le chasseur maudit
Orchestre National de France
Neeme Jarvi (conductor)
4.49am
Durante, Francesco (1684-1755): Harpsichord Concerto in B flat
Gerald Hambitzer (harpsichord)
Concerto Koln
5.00am
Mozart, Wolfgang Amadeus (1756-1791): Overture (Die Zauberflote)
Stavanger SO
Fabio Biondi (conductor)
5.06am
Schubert, Franz (1797-1828): Jagers Abendlied, D368
Christoph Pregardien (tenor)
Andreas Staier (fortepiano)
5.09am
Elgar, Edward (1857-1934): Nimrod (Enigma Variations)
Romanian Brass Ensemble
Adrian Petrescu (conductor)
5.13am
Haydn, (Franz) Joseph (1732-1809): String Trio in B flat, Op 53 No 2
Leopold Trio
5.21am
Mendelssohn, Felix Batholdy (1809-1847): Im Grunen; Die Nachtigall; Ruhetal; Jagdlied (Im Grunen, Op 59)
BBC Singers
Stephen Cleobury (conductor)
5.30am
Telemann, Georg Philipp (1681-1767): Sonata for violin and basso continuo in F (Essercizii Musici)
Camerata Koln
5.41am
Moniuszko, Stanislaw (1819-1872), orch. Noskowski: Polonaise in E flat
Polish Radio Symphony Orchestra
Jerzy Katlewicz (conductor)
5.48am
Brahms, Johannes (1833-1897): Warum ist das Licht gegeben dem Muhseligen, Op 74 (Part 1)
Grex Vocalis
Carl Hogset (director)
5.53am
Beethoven, Ludwig van (1770-1827): Piano Concerto No 4 in G, Op 58
Nelson Goerne (piano)
Norwegian Radio Orchestra
Ari Rasilainen (conductor)
6.28am
Schenck, Johann (1660-c.1712): Sonata in D, Op 9, No 1 (L'echo du Danube)
Berliner Konzert
6.42am
Bach, Johann Sebastian (1685-1750): Singet dem Herrn ein neues Lied, BWV 225
Norwegian Soloist Choir
Norwegian Radio Orchestra
Grete Pedersen (conductor).
Last on