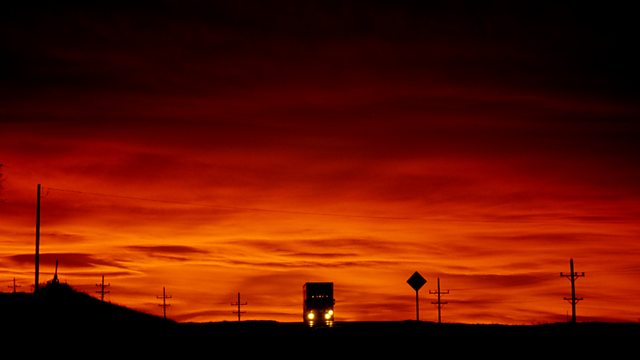 Through the Night
With Susan Sharpe.
5.00am
Bach, Johann Sebastian (1685-1750) arr. Fiona Walsh: Fugue in G minor, BWV542 (Great)
Guitar Trek
5.07am
Haydn, Joseph (1732-1809): Te Deum in C, H XXIIIc 1
Netherlands Radio Choir and Chamber Orchestra
Antoni Ros-Marba (conductor)
5.15am
Shostakovich, Dmitri (1906-1975): Festive Overture, Op 96
BBC Symphony Orchestra
Leonard Slatkin (conductor)
5.22am
Chopin, Fryderyk (1810-1849): Scherzo No 4 in E for piano, Op 54
Simon Trpceski (piano)
5.33am
Schubert, Franz (1797-1828): Polonaise in B flat for violin and orchestra, D580
Peter Zazofsky (violin)
Prima La Musica
Dirk Vermeulen (conductor)
5.39am
Cesti, Pietro Antonio (1623-1669): Intorno all'idol mio (Orontea)
Helga Muller Molinari (mezzo-soprano)
Concerto Vocale
Rene Jacobs (director)
5.47am
Copland, Aaron (1900-1990): Danzon Cubano
Aglika Genova, Liuben Dimitrov (pianos)
5.53am
Halvorsen, Johan (1864-1935): Norwegian Rhapsody No 1 in A minor
Bergen Philharmonic Orchestra
Christopher Warren-Green (conductor)
6.06am
Bach, Carl Philipp Emanuel (1714-1788): Trio sonata in B flat, Wq 161 No 2
Les Coucous Benevoles
6.24am
Ravel, Maurice (1875-1937): Valses nobles et sentimentales
Bengt-Ake Lundin (piano)
6.40am
Power, Leonel (d.1445): Salve regina
Hilliard Ensemble
6.47am
Mendelssohn, Felix (1809-1847): Variations serieuses, Op 54
Reitze Smits (organ).
Last on