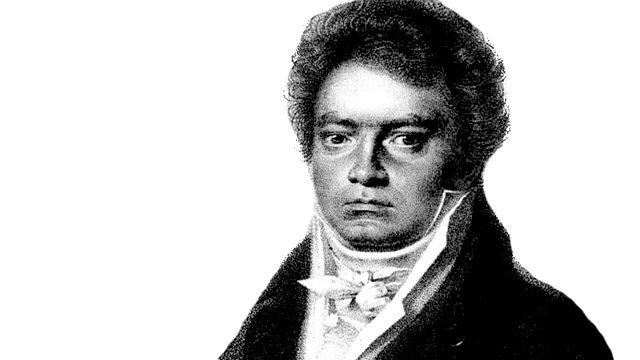 Donald Macleod explores the music of Beethoven's last 12 years. Including a seven-bar fugue for two violins, a miniature set of variations on a Scottish folksong and, at the other end of the scale, Beethoven's last, and some would say greatest, piano sonata.
Chiling O'Guiry, No 5 (Six National Airs Varied for piano with flute or violin, Op 105)
Patrick Gallois (flute)
Cecile Licad (piano)
Deutsche Gramophon 453 772-2 - CD 6 Tr 5
Eleven New Bagatelles for piano, Op 119
Rudolf Buchbinder (piano)
Warner Classics 0927-40820-2 - Trs 8-18
Duet for two violins, WoO 34
Lukas Hagen, Rainer Schmidt (violins)
Deutsche Gramophon 453 772-2 - CD 5 Tr 21
Bundeslied, Op 122 (Song of Fellowship)
Ambrosian Singers
London Symphony Orchestra
Michael Tilson Thomas (conductor)
Deutsche Gramophon 453 794-2 - Tr 3
Piano Sonata No 32 in C minor, Op 111
Maurizio Pollini (piano)
DG 449 740-2 - CD 2 Trs 7-8.
Last on