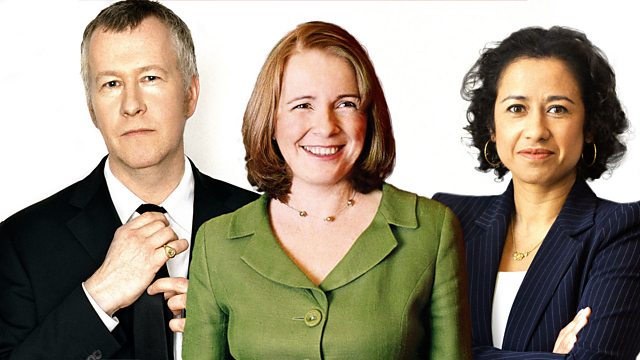 10/01/2008
Kirsty Lang talks to Tom Hanks about his Golden Globe nominated role in Charlie Wilson's War, a political comedy which also stars Julia Roberts and Philip Seymour Hoffman, and is directed by Mike Nichols (Primary Colours) with a screenplay by Aaron Sorkin (The West Wing). The film tells the true story of how a playboy Texan congressman, a renegade CIA agent and a beautiful socialite joined forces to instigate a covert operation to provide arms to ordinary Afghans resisting the Soviet occupation of Afghanistan. When Zia ul-Haq, the President of Pakistan, was asked how a group of peasants had been able to repel a superpower, he replied simply, "Charlie did it".
The latest BBC television costume drama is an adaptation of Flora Thompson's semi-autobiographical trilogy Lark Rise To Candleford. The production is set in nineteenth century rural England and stars Dawn French, Julia Sawalha and Liz Smith. Kirsty Lang discusses the adaptation with biographer Kathryn Hughes.
A major report laying out the government's new thinking on arts policy has been published today. Written by Sir Brian McMaster, and commissioned by the Secretary of State for Culture, James Purnell, the report - entitled Supporting Excellence in the Arts - sets out new ways to recognise and reward high-quality work in arts and culture. Kirsty Lang speaks to James Purnell and to Brian McMaster about the key recommendations in the report and about their ideas on how excellence in the arts should be nurtured.
A new production of La Cage Aux Folles comes to London this week. Based on the French play by Jean Poiret, the show is about nightclub owners Albin and Georges. Georges's son Jean-Michel wants to marry the daughter of a local politician who unfortunately objects to Albin's drag act. Kirsty Lang discusses the production with writer and critic Adam Mars-Jones.
Last on