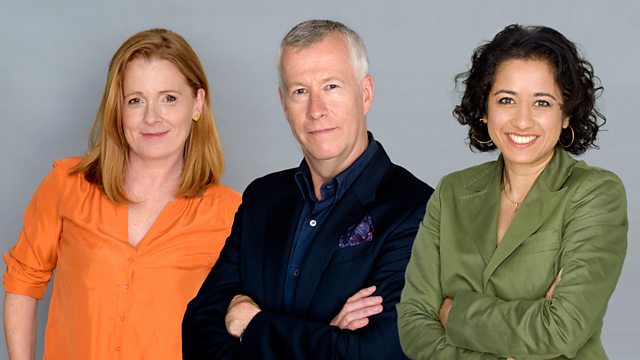 08/01/2008
Tasmin Little, the internationally-renowned violinist, is about to release her first new recording in 4 years. However, rather than being a cd, the new recording - entitled The Naked Violin © - will be available exclusively for download, free of charge. Tasmin has also recorded spoken introductions to each work, and the new recording will give listeners a rare opportunity to compare and contrast two of the world's finest Italian violins: the Regent Stradivarius of 1708, on loan to Tasmin from the Royal Academy of Music, and her own 1757 Guadagnini. She talks to Kirsty Lang about these two magical instruments, about her choices of music - and her reasons for releasing the recording as a free download.
The six shortlisted proposals for the next commission for the 4th Plinth at Trafalgar Square have just been unveiled in The National Gallery. The latest artistic contenders - Anthony Gormley, Anish Kapoor, Jeremy Deller, Yinka Shonibare, Tracey Emin, Bob and Roberta Smith - are a prestigious list, including three Turner prize winners and two Turner nominees. Each artist has made a scale model of their proposed artwork, all exhibited at the National Gallery. John Wilson asked the artists to explain themselves.
Four classic fairy tales have been updated and adapted by contemporary writers into comedy dramas for BBC One. Cinderella has been reworked by Richard Pinto and Anil Gupta from Goodness Gracious Me, Rapunzel has been given a modern equivalent by Ed Roe from Teachers, Debbie Horsfield, writer of Cutting It has created the Empress's New Clothes and Jeremy Dyson of The League of Gentlemen has updated Billy Goats Gruff. Kirsty Lang discusses updating fairy tales with writers Jeremy Dyson and Anil Gupta.
The cancellation of the Golden Globes awards ceremony is the latest development in the nine-week-long strike of the Hollywood writer's strike. Steven Gaydos of Variety magazine and Kirsty Lang consider the implications for the film industry.
Last on