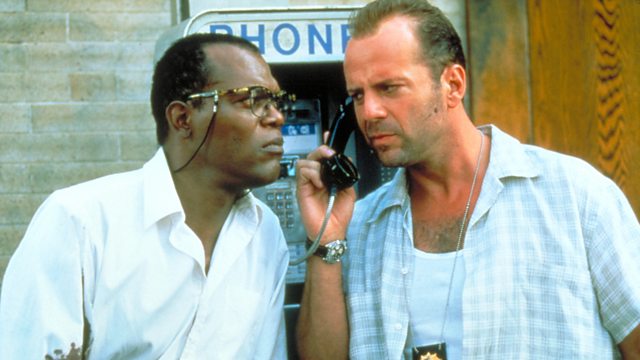 Die Hard with a Vengeance
John McClane and a store owner must play a bomber's deadly game as they race around New York while trying to stop him.
BBC iPlayer - unavailable episode
This episode is not available on BBC iPlayer.  Programmes are unavailable for a number of reasons including legal, contractual or technical issues.
Credits
| Role | Contributor |
| --- | --- |
| John McClane | Bruce Willis |
| Simon Gruber | Jeremy Irons |
| Zeus Carver | Samuel L Jackson |
| Joe Lambert | Graham Greene |
| Connie Kowalski | Colleen Camp |
| Inspector Walter Cobb | Larry Bryggman |
| Ricky Walsh | Anthony Peck |
| Mathias Targo | Nicholas Wyman |
| Katya | Sam Phillips |
| Charles Weiss | Kevin Chamberlin |
| Officer Jane | Sharon Washington |
| Dr Fred Schiller | Stephen Pearlman |
| Director | John McTiernan |
| Writer | Jonathan Hensleigh |
| Producer | John McTiernan |
| Producer | Michael Tadross |
| Composer | Michael Kamen |
| Director of photography | Peter Menzies |