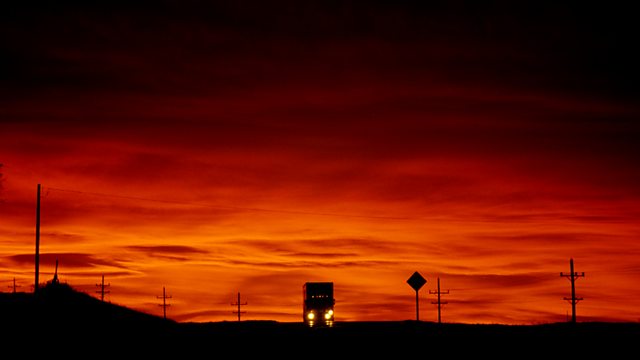 10/01/2008
With Susan Sharpe.
1.00am
Bach: Partita No 2 in D minor, BWV 1004
Viktor Pikajzen (violin)
1.33am
Prokofiev: Violin Sonata in F minor, Op 80
Viktor Pikajzen (violin)
Evgenia Sejdelj (piano)
2.00am
Tchaikovsky: Symphony No 2
Luxembourg Philharmonic Orchestra
Yuri Ahronovich (conductor)
2.34am
Paganini, trans. Liszt: Etude No 2 in E flat
Arthur Friedheim (piano)
2.40am
Liszt: Transcendental Study No 11 in D flat (Harmonies du soir)
Jenö Jandó (piano)
2.51am
Mozart: Mass in C minor, K427 (Great)
Olivia Robinson (soprano)
Elizabeth Poole (mezzo-soprano)
Christopher Bowen (tenor)
Stuart MacIntyre (baritone)
BBC Singers
BBC Concert Orchestra
Stephen Cleobury (conductor)
3.42am
Poulenc: Sextet for piano and winds
Zoltán Kocsis (piano)
Anita Szabó (flute)
Béla Horváth (oboe)
Zsolt Szatmári (clarinet)
György Salamon (bass clarinet)
Pál Bokor (bassoon)
Tamás Zempléni (horn)
3.59am
Daniel: Dohl mot son plan e prim and Lo fera voler quel cor m'intra (chansons)
Sequentia Köln
4.09am
Berlioz: Le Carnaval Romain Overture
Finnish Radio Symphony Orchestra
Jukka-Pekka Saraste (conductor)
4.18am
Svendsen: Carnival in Paris Overture (Episode for orchestra)
Bergen Philharmonic Orchestra
Ole Kristian Ruud (conductor)
4.31am
Satie: Parade (Ballet réaliste)
Steven and Stijn Kolacny (pianos)
4.44am
Saint-Saëns: Les titans, Op 71 No 2
Lamentabile Consort
4.51am
Telemann: Trio No 6 (Essercizii Musici)
Camerata Köln.
Last on