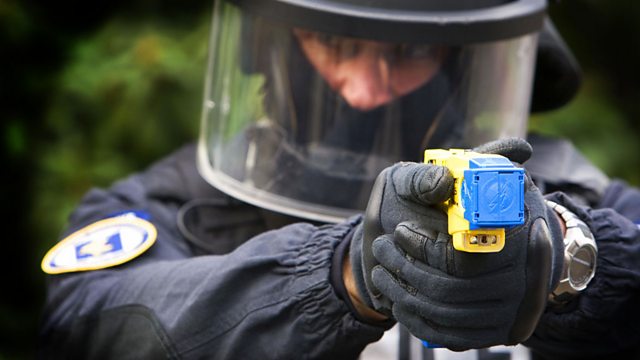 Taser Guns - Psychoanalytic Film Festival - Tribute to Anthony Clare
Listen in pop-out player
TASER GUNS
Taser guns have become the latest must-have weapon for police forces all over the world, and there have been disturbing headlines and footage from the USA showing Tasers being used to subdue a protesting student, as well as stories of errant motorists being tasered for traffic offences. Questions have been asked about the numbers of people with a mental illness who are being targeted with a Taser gun by police. Inspector Simon Williams, head of operational training at Northamptonshire police, showed reporter Angela Robson, how a taser works and discussed the importance of teaching officers to deal with people who appear to be mentally ill.
Dr Raj Persaud spoke to Tony O'Brien, a Senior Lecturer at the School of Nursing at the University of Auckland, who has published a special article in the latest edition of the academic journal Psychiatric Bulletin on his concerns about the number of people with a mental illness who are being targeted with Tasers, and about the lack of research on the psychological impact of Tasers on such vulnerable groups.
Raj Persaud spoke to: Dr Tony Bleetman, a consultant in Emergency Medicine who has reviewed the medical literature on Tasers; and Phil Howes, a Commissioner on the Mental Health Act Commission; and discussed whether there are sufficient safeguards in place to protect those suffering from a mental illness from the increased deployment of Taser guns in the UK.
EUROPEAN PSYCHOANALYTIC FILM FESTIVAL
When Joseph Breuer and Sigmund Freud published Studies on Hysteria - considered by many to be the beginning of psychoanalysis in 1895, the Lumiere brothers were showing their first films in Paris. Psychoanalysis and cinema were born and grew up together. But what do they have to say to each other? Last week saw a gathering of psychoanalysts and film makers from all over the world at the 4th European Psychoanalytic Film Festival held in London. Reporter Kathleen Griffin went along to the festival and talked to Ian Christie, a film historian and Professor of film and Media History at Birkbeck, Andrea Sabbadini, Chairman of the European Psychoanalytical Film Festival and film maker, Emily Cooper, about the importance of the long-term relationship between celluloid and the psyche.
TRIBUTE TO ANTHONY CLARE
At the end of last month, Professor Anthony Clare, died suddenly, aged 64. Professor Louis Appleby, the National Director for Mental Health for England, pays tribute to this charismatic clinician and exceptional broadcaster, marking the significant contribution he made to psychiatry and to All in the Mind.
Last on