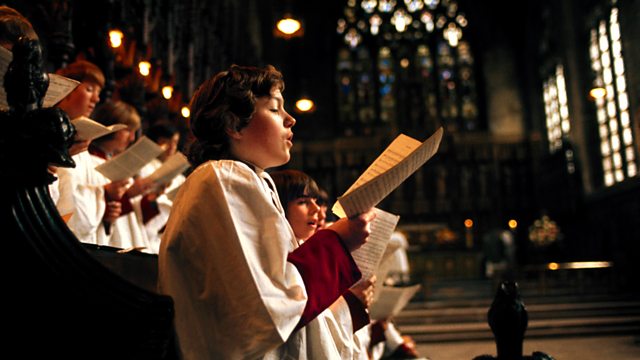 02/12/2007
Live from the Chapel of St John's College, Cambridge.
Advent Prose (Plainsong)
Processional Hymn: O come, O come, Emmanuel (Veni Emmanuel)
Bidding Prayer
Carol: Adam lay ybounden (Warlock)
I The Message of Advent
Sentence and Collect
Antiphons: O Sapientia and O Adonai
First lesson: Isaiah 11 vv 1-5
Anthem: A Hymn of St Columba (Britten)
Second lesson: 1 Thessalonians 5 vv 1-11
Anthem: Vigilate (Byrd)
II The Word of God
Sentence and Collect
Antiphons: O Radix Jesse and O Clavis David
Carol: Out of your sleep (Anthony Milner)
Third lesson: Micah 4 vv 1-4
Carol: The Truth from above (Vaughan Williams)
Fourth lesson: Luke 4 vv 14-21
Hymn: Come, thou long-expected Jesus (Cross of Jesus)
III The Prophetic Call
Sentence and Collect
Antiphons: O Oriens and O Rex Gentium
Carol: Laetentur coeli (Mathias)
Fifth lesson: Malachi 3 vv 1-7
Carol: E'en so, Lord Jesus, quickly come (Paul Manz)
Sixth lesson: Matthew 3 vv 1-11
Hymn: On Jordan's bank the Baptist's cry (Winchester New)
IV The Christ Bearer
Sentence and Collect
Antiphon: O Emmanuel
Motet: Ave Maria (Victoria)
Seventh lesson: Luke 1 vv 39-49
Carol: There is no rose (Joubert)
Magnificat: Chichester Service (Walton)
Eighth lesson: John 3 vv 1-8
Sentence and Christmas Collect
Carol: Benedicamus Domino (Warlock)
Hymn: Lo! He comes with clouds descending (Helmsley)
College Prayer and Blessing
Organ Voluntary: Wachet auf, ruft uns die Stimme, BWV 645 (Bach)
Director of Music: Andrew Nethsingha
Senior Organ Student: Léon Charles.
Last on