Rickshaw Challenge Day 8
Follow the team on day 8 of the challenge
| Fact title | Fact data |
| --- | --- |
| Date: | Friday 16 November 2012 |
| Start Point: | Reading Town Centre |
| Finish Point: | BBC TV Centre, White City, London |
| Distance: | 38.43 miles |
A lie-in this morning - 7.30am start instead of 6.30am! Jack was first in the saddle, followed by James. Between them they covered 17 miles in 2 hours - Good going! James finished his ride in Windsor and the rest of the team came to meet him at Windsor Castle. They joined the end of the Changing of the Guards which they were really excited about.
Despite the fact that it was the final day of an epic journey, the weary team were spurred on by hundreds of enthusiastic supporters who were chanting their names - they felt like mini celebrities.
Lauren led the team out of Windsor accompanied by Alex and Matt and then Ciaran took over on the approach to Hounslow. Some of Team Rickshaw's fans had baked them special cupcakes which they handed to them as they rode past. The fundraising team banked the bucket collection money from the last 24 hours, which totalled a phenomenal £4.5k! The team is overwhelmed by the public's generosity.
Ciaran and Jamila put the miles in next and Darren did the final leg of the mammoth 411 mile journey. He rode the rickshaw into Television Centre live on The One Show and his team mates were waiting for him. He hopped off the saddle so that the whole team could push the rickshaw over the finish line together, a momentus moment for all of them. Team Rickshaw 2012 raised more than £1,500,000 for BBC Children in Need!!
Many congratulations Team Rickshaw, you've done us all proud!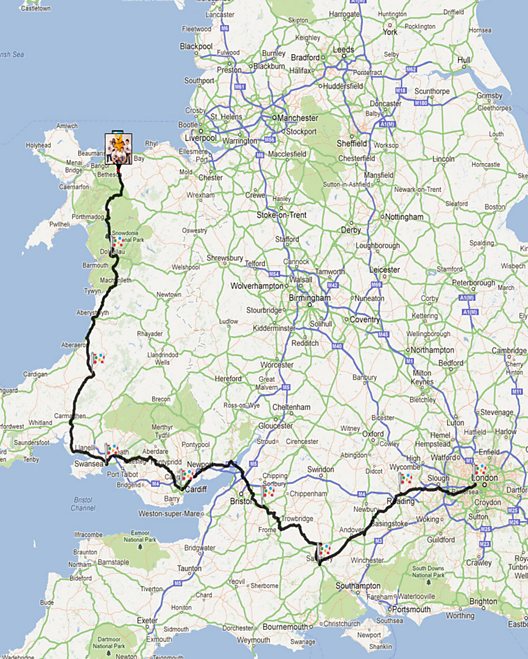 Find out more about Team Rickshaw and their epic journey

Find out how Team Rickshaw did on the other days of the challenge