BBC Children in Need Gala Lunch
Find out how to get tickets for Sir Terry Wogan's Gala Lunch at the Savoy for BBC Children in Need.
Sir Terry Wogan will host a Gala Lunch for BBC Children in Need at the Savoy Hotel in London on Sunday 27th October. BBC Radio 2 DJs and celebrity pals will also be in attendance. Join Sir Terry from 12.30pm for a champagne reception and some very special performances in the Ballroom along with the now famous BBC Children in Need Auction.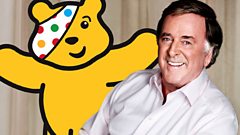 At least 50% from the sale of each ticket, plus any further proceeds from the day will benefit BBC Children in Need.
Last year's event raised almost £90,000 - which contributed to BBC Radio 2's fantastic fundraising total of £4,010,974. Every penny raised or donated goes to help disadvantaged children and young people across the UK.
Sir Terry was a Trustee of BBC Children in Need for many years, before being inaugurated as Life President in November 2010. He has hosted the seven-hour live BBC Children in Need Appeal TV show since 1980.