Northern Ireland
Meningitis Trust
Claire caught bacterial meningitis when she was just a day old.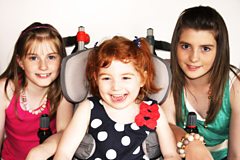 It was a scary time for her family as her tiny body was swollen, and covered in blotches. She had a high temperature and seizures.
Nurses put a blanket over her incubator to protect her from the bright lights.
Her older sisters didn't meet her for six weeks because she was so poorly.
Several times she stopped breathing and had to be resuscitated.
Eventually, she pulled through and her mum Tracy is convinced that her feisty nature played a part in her survival.
However, she has poor eyesight and can't talk or walk very well because of severe brain damage. Her epileptic seizures have continued too. Claire has up to 100 fits a day, sometimes lasting just seconds and other times, several exhausting minutes.
If they are prolonged, they could be fatal so she has to be rushed to hospital. As she lives 40 miles from the nearest specialist unit/hospital in Belfast, her family have been medically trained.
But when she's well enough, Claire goes to school for a couple of hours a day. She takes medicines to try to control her epilepsy and has help throughout the day. It's hard on the family but her sisters adore and look after her, as well as her mum and dad.
BBC Children in Need has awarded Meningitis Trust in Northern Ireland £3,000, so that families with children like Claire, who have had meningitis, can go to annual family days.
These days provide the opportunity for them to meet and give support to other families who have been through similar situations, make new friends and raise awareness of the long term effects of meningitis.