North of England
Forget Me Not Children's Hospice, Huddersfield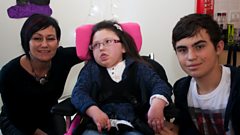 Read on to discover how the Forget Me Not Children's Hospice in Huddersfield, West Yorkshire, helps families thanks to generous donations and fundraising from the Great British Public. Here's what one mum, Dawn, said.
Lucy's Story - as told by her Mum, Dawn.
Within minutes of being born, Lucy was whisked away from me and rushed to the Neonatal Intensive Care Unit. She wasn't breathing and for the next three hours I had to endure the heartache of not knowing if she had even survived.
Finally I remember one of the neonatal nurses telling me that the Doctor wanted to have a word with me. I asked the nurse "Will we be able to take her home?" to which she replied, "You will take her home and you will love her no matter what". I was just so relieved. I think I already had a feeling that our lives were going to be very different, but the only thing that was important then - and still is now - was that my little girl was alive.
Lucy had been starved of oxygen during delivery and the consequences of this were to have an enormous impact on her life. As a result she has quadriplegic Cerebral Palsy, which is a condition that affects the muscles and leaves her dependent on a wheelchair. In addition Lucy suffers from epilepsy, visual impairment and global developmental delay. I am her full time carer and in return she is my inspiration. She has taught me so much about life and I am so proud to be her Mum. In her eight short years she has brought joy and understanding into so many people's lives, much more than I alone could ever achieve in my entire lifetime.
Lucy requires a lot of extra care, love and attention. By default, her 15-year-old brother Joshua quite often has to sit on the side-lines. He has missed out on many of the everyday things that most other children take for granted. I know it has been very difficult for him but despite everything he has never complained. He is an amazing big brother who has also taken on his role as 'Young Carer' admirably. I honestly don't know what I would have done without him.
One of the many wonderful things about the Forget Me Not Children's Hospice is that they recognise the need to support the whole family. Their 'Sibling Group' is especially important for brothers and sisters just like Joshua.
The Forget Me Not Children's Hospice has helped us as a family in so many ways. The Hospice At Home Service has enabled me to have a break from my caring responsibilities. The hospice has taken the time to get to know Lucy and all of her 'Little Ways'. This in turn has given me the confidence to hand over the reins and have some valuable time off. I can recharge my batteries, get on with other household tasks and more importantly spend some quality time with Joshua.
Just doing usual things together as a family can be so difficult. The days are fragmented into little pieces, interspersed with the bleeping of feeding pumps, medication needing administering, visits to see various health professionals and worrying times spent in hospital.
The overnight stays at the Forget Me Not Hospice are our light at the end of the tunnel. When we turn into the driveway at 'Russell House' I subconsciously and spontaneously breathe a sigh of relief. It feels like coming home, a haven, a safe place... A place where we can leave our 'Nursing' and 'Young Carer' responsibilities behind... a place where we can just be a 'Family' again.
I don't know what the future holds, but I do know that every moment with Lucy is special. With the help of the Forget Me Not Children's Hospice we are able to make new and wonderful memories with every precious day that we have ... Memories that we will cherish forever.