South West England
British Institute for Brain Injured Children (BIBIC)
There are 23,500 children in the UK who live with a health condition for which there is no cure. Receiving medical care to help manage these conditions can be scary and frightening for young children and their families.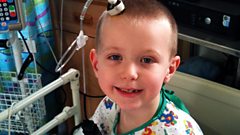 Harrison, 8, needed an emergency operation to remove part of his skull because he had water on his brain.
At first, he couldn't walk without bumping into things but a year later, thanks to you and the British Institute for Brain Injured Children (BIBIC) in Somerset, he is doing brilliantly.
At BIBIC, a physiotherapist funded by BBC Children in Need helps Harrison with his co-ordination skills. Harrison has learned to do things most children take for granted, such as balance and coordination.
Harrison needs to wear a helmet at school to stop him banging his head and doing damage but he can now go swimming, ride a tricycle and is having lots of fun with his friends.
Every £15 that you raise could help pay for an hour of specialist nursing for a severely disabled child.
Children like Harrison need your help so that they can have safe and happy childhoods. This year show your spots and help raise lots for BBC Children in Need so we can continue to support projects like the British Institute for Brain Injured Children (BIBIC).