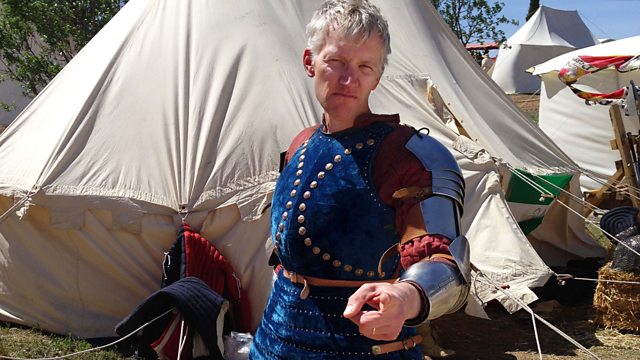 Highland Controversy - Alfred Lucas
The Highland Controversy
A listener's visit to the Knockan Crag Tourist Information Centre in Ross-shire, Scotland, led to the story of how nineteenth century geologists fought over new theories about how mountains are made. The resulting science was pivotal in our understanding of earth sciences. In short, a Darwinian moment in the study of geology.
Making History consulted Dr Maarten Krabbendam at the British Geological Survey in Edinburgh. Maarten explained that up until the late eighteenth century, the Biblical interpretation of how the earth was made widely accepted by scientists and the educated. But in the 1780's the Scottish geologist James Hutton (now regarded as the father of modern geology) developed his theory of so-called 'deep time': that the earth was formed and shaped by ongoing processes of erosion and deposition. Addressing the Royal Society of Edinburgh in 1788 he said: "we find no vestige of a beginning, no prospect of an end". In short, earth processes are ongoing.
Up until the early years of the nineteenth century, little geological mapping of the British uplands had been undertaken. This is because the rock strata was very confusing with younger rocks buried under older rocks by the violent geological processes of folding and tilting that we recognise today.
Alfred Lucas
A 'Today' programme debate about the new Tutankhamen exhibition at the 02 Arena in London prompted a Making History listener to ask why her husband's ancestor Alfred Lucas never receives any acknowledgement for the help he gave Howard Carter and Lord Carnarvon during their remarkable excavation in the 1920's. Vanessa Collingridge went to meet Dr John Taylor at the British Museum to set the record straight.
Lucas has since been described as Egypt's Sherlock Holmes. Lucas (1867 – 1945) was a chemist and was one of the first to apply new discoveries in chemical science to archaeology, in particular in preserving new finds. Dr Taylor told the programme that he believes that we have a lot to thank Lucas for because he ensured that finds reached the Cairo Museum in the condition in which they had been discovered.
Last on