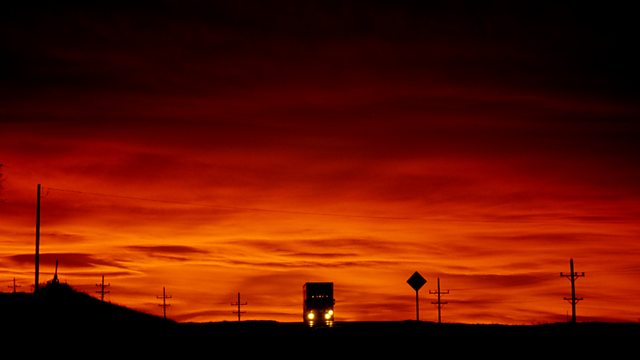 Untitled
With Susan Sharpe.
1.00am
Schumann, Robert (1810-1856): Bunte Blätter, Op 99
1.31am
Piano Sonata No 2 in G minor, Op 22
1.48am
Four Fugues, Op 72
1.59am
Carnaval, Op 9
Eric le Sage (piano)
2.27am
Dvorák, Antonín (1841-1904): Symphony No 6 in D
BBC Concert Orchestra
Barry Wordsworth (conductor)
3.12am
Koehne, Graeme (b. 1956): Three Poems of Byron
Elizabeth Campbell (mezzo-soprano)
Adelaide Symphony Orchestra
Janos Furst (conductor)
3.25am
Tchaikovsky, Pyotr Il'yich (1840-1893): Violin Concerto in D, Op 35
Anne-Sofie Mutter (violin)
Oslo Philharmonic Orchestra
André Previn (conductor)
4.00am
Verhulst, Johannes (1816-1891): Overture in C minor, Op 3 (Gijsbrecht van Aemstel)
Netherlands Radio Symphony Orchestra
Jac van Steen (conductor)
4.09am
Mokranjac, Stevan (1856-1914): Opelo
Vlado Miko (bass)
Belgrade Radio and Television Choir
Mladen Jagust (director)
4.22am
Alessandrescu, Alfred (1893-1959): Autumn Dawn - symphonic sketch
Romanian National Radio Orchestra
Constantin Bobescu (conductor)
4.31am
Kerll, Johann Caspar (1627-1693): Sonata à 5
Musica Florea
4.36am
Muffat, Georg (1653-1704): Toccata undecima in C minor (Apparatus musico Organisticus)
Pavel Cerny (organ)
4.45am
Carissimi, Giacomo (1605-1674): Ardens est cor meum
I Fagiolini
Robert Hollingworth (director)
4.49am
Vierdanck, Johann (1605-1646): Sonata a 4
Musica Fiata
Roland Wilson (director)
4.53am
Grieg, Edvard (1843-1907): Letzter Frühling (Last Spring), Op 33, No 2
Camerata Bern
Thomas Furi (leader and concertmaster).
Last on