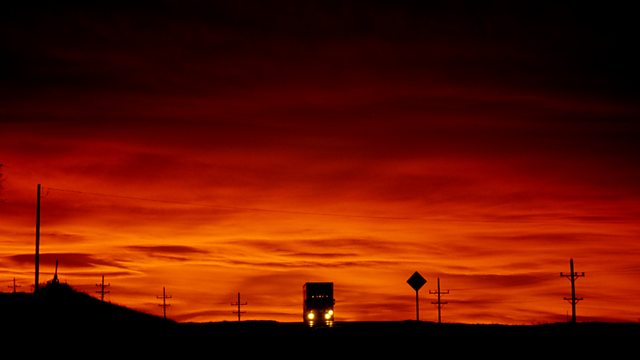 03/10/2007
With Jonathan Swain.
1.00am
Scarlatti, Alessandro (1660-1725): Stabat mater
Valeri Popova (soprano)
Penka Dilova (mezzo-soprano)
Tolbuhin Children's Chorus
Bulgarian National Radio Sinfonietta
Dragomir Nenov (conductor)
1.42am
Beethoven, Ludwig van (1770-1827): Piano Sonata in F minor, Op 2 No 1
Geoffrey Lancaster (fortepiano)
2.03am
Tchaikovsky, Pyotr Il'yich (1840-1893): Violin Concerto in D, Op 35
Joshua Bell (violin)
Oslo Philharmonic Orchestra
Jukka-Pekka Saraste (conductor)
2.38am
Marteau, Henri (1874-1934): String Quartet No 3 in C
Yggdrasil Quartet
3.17am
Fitelberg, Grzegorz (1879-1953): W glebi morza (From the Depths of the Sea)
National Polish Radio Symphony Orchestra
Marcin Nalecz-Niesiolowski (conductor)
3.41am
Telemann, Georg Philipp (1681-1767): Bourlesque de Quixotte
La Stagione Frankfurt
Michael Schneider (conductor)
4.00am
Fischer, Johann Caspar Ferdinand (c.1670-1746): Euterpe (Musikalischer Parnassus)
Leen de Broekert (organ)
4.12am
Ockeghem, Johannes (c.1410-1497): Intemerata Dei mater
The Hilliard Ensemble
4.20am
Wagner, Richard (1813-1883), arr. Humperdinck: Good Friday Music (Parsifal)
Canadian Chamber Ensemble
Raffi Armenian (conductor)
4.30am
Glick, Srul Irving (1934-2002): Suite Hebraique No 1 for clarinet and piano
James Campbell (clarinet)
Valerie Tryon (piano)
4.41am
Durante, Francesco (1684-1755): Concerto per quartetto No 4 in E minor
Concerto Köln
4.53am
Palestrina, Giovanni Pierluigi da (c.1525-1594): Stabat mater for 8 voices
Silvia Piccollo, Teresa Nesci (sopranos)
Marco Beasley (tenor)
Furio Zanasi (bass)
Paolo Crivellaro (organ)
Alberto Rasi (viola da gamba)
Theatrum Instrumentorum
Chorus of Swiss Radio, Lugano
Diego Fasolis (conductor).
Last on