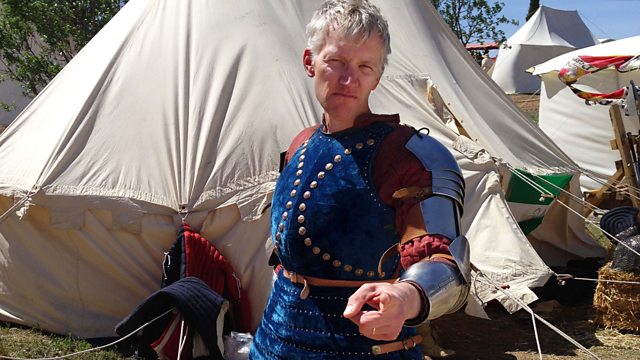 Northumbrian Rock Art - Lillian Lancaster - When Did The Great War End?
Northumbrian Rock Art
Think of pre-historic art and it's probably the cave drawings in the Ardeche region of France; maybe Lascaux in the Dordogne or Altimira in Spain come to mind. But did you know that here in Britain we have our own, extremely important, examples of what are known as 'cup and ring' marks? These are concentric rings around one large, cup shaped, indentation picked out of the rock and it was Making History listener Bill Jures from Newhaven in East Sussex that stumbled across them. He was researching his family history in Northumbria and came across the 'cup and ring' marks of Fowberry Mains to the east of Wooler. His question to Making History was, simply "what are they?" Making History approached Britain's leading experts on the so-called rock-art of Northumbria: Dr Aron Mazel of the University of Newcastle and Stan Beckensall, a former teacher who has devoted forty years of his life to this subject.
According to Stan Beckensall, the rock art of Northumbria is from the Neolithic and Early Bronze Age and unlike the impressive cave art found in France, Spain and South Africa, is entirely abstract.
Lillian Lancaster
Can you help tell us more about a young Victorian cartographer who also had a career on the stage? Peter Barber, the Head of Map Collections at the British Library in London, contacted Making History with a plea for help. Five years ago he bought a collection of political, cartoon maps that had been drawn by someone called Lillian Lancaster. Remarkably, Lillian's first work was published in 1869 when she was only 14 in a book called "Geographical Fun", published by Hodder and Stoughton and written by William Harvey (who went under the name of Aleph). This was essentially an Atlas, designed in such a way as to encourage youngsters to study and remember maps of the world. Lillian's caricatures include: England in the form of Queen Victoria; Scotland as a gallant Piper struggling through the bogs; Wales in the form of Owen Glendowr; and Russia as a bear. According to Peter Barber, a newspaper cutting describes Lillian as a music-hall artist whose act included sitting on stage and drawing the audience. We also know that her married name was Tennant and for a time she lived in Marine Parade, Brighton. The last record we have for her is in 1912 when she signed her work for someone.
When Did The Great War End?
Tony Green from Ipswich in Suffolk has spent the last few years cycling around the county taking photographs. These are mainly focussed on his passion for beer, but another interest has grown on him through his travels: First World War Memorials. Tony contacted Making History with a question that has puzzled him, "why do some memorials mark the 1914-1918 war and others 1914 – 1919?"
Vanessa Collingridge travelled to Risby in Suffolk (where the memorial marks the 1914-19 war) to meet up with the former County Archivist, Gwyn Thomas, who is an expert on war memorials in Suffolk.
Gwyn Thomas told us that there was no formally agreed plan to the erection of War Memorials. Each community would be honouring their fallen and whereas we think of the 1914-1918 war, their perspective could well have been different. He pointed out that the 11th of November 1918 was the Armistice, the war didn't formally end until the Treaty of Versailles was signed in June 1919. Some communities may well have had inhabitants who died of their wounds after November 1918 and the 1919 date was more definite.
Gwyn was the Suffolk co-ordinator for the UK National Inventory of War Memorials which was a project run by the Imperial War Museum. Using its website, you can search the database for all war memorials commemorating all wars throughout the UK.
Last on