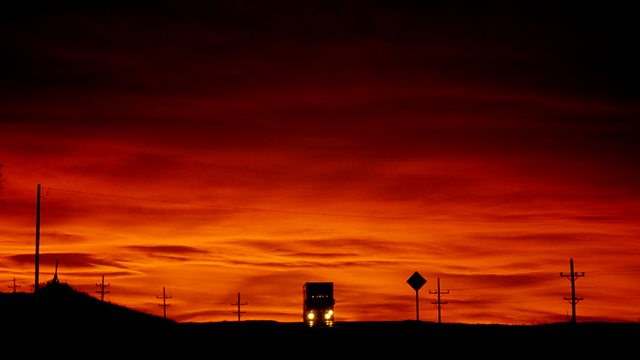 Through the Night
With Jonathan Swain.
5.00am
Marenzio, Luca (1553/54 -1599): Sinfonia – O valoroso Dio
Tragicomedia
Stephen Stubbs (chitaronne/director)
5.02am
Marenzio, Luca (c.1553-1599): Solo e pensoso
Ensemble Daedalus
Roberto Festa (director)
5.08am
Purcell, Henry (1659-1695): Sonata No 6 in G minor for two violins and continuo (1697)
Il Tempo
5.15am
Mozart, Wolfgang Amadeus (1756-1791): Variations in C on Ah, vous dirai-je, Maman, K265
Young-Lan Han (piano)
5.26am
Tobias, Rudolf (1873-1918): Prelude and Fugue in D minor
Estonian National Symphony Orchestra
Arvo Volmar (conductor)
5.34am
Vaughan Williams, Ralph (1872-1958): Prelude and Fugue in C minor
Ian Sadler (organ)
5.44am
Telemann, Georg Philipp (1681-1767): Sonata in D minor for recorder and basso continuo (Essercizii Musici)
Michael Schneider (recorder)
Camerata Köln
5.53am
Beethoven, Ludwig van (1770-1827): Coriolan Overture
Oslo Philharmonic Orchestra
Arvid Engegard (conductor)
6.01am
Trad. Hungarian: Dances from Csiksomelyo and Esztergom
Csaba Nagy (tárogató)
Viktória Herencsár (cimbalom)
6.09am
Trad. Hungarian: Bride's Dance
Csaba Nagy (solo recorder)
Camerata Hungarica
László Czidra (conductor)
6.12am
Handel, Georg Frideric (1685-1759): E vivo ancore; Dopo notte (Ariodante)
Anne Sofie von Otter (mezzo-soprano)
Les Musiciens du Louvre
Marc Minkowski (conductor)
6.32am
Schlegel, Leander (1844-1913): Violin Sonata, Op 34
Candida Thompson (violin)
David Kuyken (piano)
6.55am
Kaski, Heino (1885-1957): Prelude (1912)
Finnish Radio Symphony Orchestra
Okko Kamu (conductor).
Last on