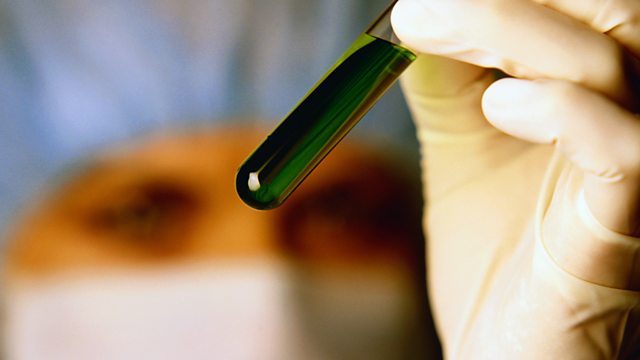 Listen in pop-out player
Kate has lived with anorexia nervosa since 14. She has reached the point where she can't face more treatment and wants palliative care. Is it ethical to let her make this decision?
Last on
Programme Transcript
Downloaded from www.bbc.co.uk/radio4
THE ATTACHED TRANSCRIPT WAS TYPED FROM A RECORDING AND NOT COPIED FROM AN ORIGINAL SCRIPT.  BECAUSE OF THE RISK OF MISHEARING AND THE DIFFICULTY IN SOME CASES OF IDENTIFYING INDIVIDUAL SPEAKERS, THE BBC CANNOT VOUCH FOR ITS COMPLETE ACCURACY.
INSIDE THE ETHICS COMMITTEE
Programme 2
RADIO 4
WEDNESDAY                       10/09/07          2000-2045
PRESENTER:                     VIVIENNE PARRY
CONTRIBUTORS:               JASINTA TAN
                                          ANNE STEWART
                                          SIMONA GIORDANO
PRODUCER:                       PAMELA RUTHERFORD
NOT CHECKED AS BROADCAST
PARRY
Welcome to the second programme of 'Inside the Ethics Committee', a series in which real life medical ethical dilemmas are considered by a panel of experts, drawn from the clinical ethics committees that sit in hospitals up and down Britain.  We'll be hearing testimonies from those involved in today's case and our panel will then guide us through the aspects of the case that will be discussed by an ethics committee before giving their advice.
And, having heard the programme, you too will have an opportunity to give us your thoughts by telephone or on the programme's website and I'll be giving you those details later.
This week our case involves a potent and troubling mix of issues - living with a potentially fatal illness and whether we can choose to die.  But an extra dimension in this case is that it concerns mental health, an area of medicine which poses some of the most difficult ethical dilemmas of all. 
Let's turn to our case.  Kate is a young woman with anorexia nervosa. 
KATE
My anorexia started when I was about 13 years old.  I did a lot of ballet dancing and there was quite a lot of pressure to be the right physique and I began losing weight in order to make myself feel better, be better at the dancing which I thought would improve things.  And actually it led me into a spiral of uncontrollable weight loss and I couldn't stop it.  The rules that I put on myself, what I ate, became greater and more restricted and before I knew it I could hardly eat - allow myself to eat anything.
PARRY
And since her early teens Kate has been treated for her anorexia with limited success. Her consultant psychiatrist and eating disorders specialist describes how she came to meet Kate
PSYCHIATRIST
I first met Kate when she was in a medical bed at a really severely dangerously low weight - body mass index of about 10 - really close to death from starvation and she'd just taken a very large paracetamol overdose. This had occurred in the context of rapid relapse of her anorexia nervosa over a period of six to eight weeks. Prior to that she had for a long time been undergoing inpatient treatment; she'd been in hospital for several years. She had only been able to gain weight when pretty much fully sedated and tube fed in order to gain the weight.  She described the experience as being like three months staring up at a hospital white ceiling at the end of which she woke up at a healthy weight and hated it. And so stayed in hospital a long, long time with a specialist eating disorder team trying to help her learn to maintain her weight and cope with living at a healthy weight.  But unfortunately very rapidly, as soon as she left hospital to a supported hostel, she lost all that weight really very fast to a dangerous level.

PARRY
How had this illness and its treatment affected Kate?
KATE
People have this illness for many years sometimes and I'd had it for several years and been in a lot of treatment and it hadn't worked - I hadn't got better. So I kind of lost hope of ever being able to get better I didn't believe that people could recover from it. The doctors were saying - oh yes you can recover and I just didn't believe them, I thought I'm the one with this illness not you, I know that I can't get better and I can't bear to live with this illness. I just felt - I suppose despair would be how I'd describe it - you know just leave me alone, let me die.  And everyone's, not only my life, but everyone's life would be better if I was dead, you wouldn't have to look after me anymore, you wouldn't have to help anymore, you could just get on with your own lives.  I'd be happier if I was not around, if I was dead.
PSYCHIATRIST
She found back then the whole process of eating utterly, utterly unbearable, it disgusted her. She described the loud anorexic voice in her head telling her it's the wrong thing to do and that the only thing she really felt safe with was the anorexic voice and doing what it said, everything else felt frightening and dangerous and asking her to eat just terrified her.  She'd say things like she'd would rather die than have to gain an ounce of weight it would be so disgusting and didn't want to put herself through what she described really as the horrors of treatment again and finding herself weighing more.  And in the end her conclusion was that she'd rather just be left to die.
PARRY
So there we have it in a very disquieting case indeed for our panel to discuss.  Let me now introduce them. With me in the studio is:  Dr Anne Stewart, a consultant adolescent psychiatrist, with a special interest in eating disorders, who chairs the Oxfordshire and Buckinghamshire Mental Health Trust clinical ethics committee.
Simona Giordano is a senior lecturer in bioethics and an expert in the ethics of psychiatry.  She has written extensively on the ethics of eating disorders and is currently on sabbatical in Italy, so she's down the line from Rome.
And finally Dr Jasinta Tan, Senior Clinical Research Fellow at the Ethox Centre, University of Oxford and a visiting member of the Oxfordshire Mental Health Trust clinical ethics committee.
Jasinta, you're both an ethicist and a clinician, can you summarise first of all what the main ethical questions raised by Kate's case are?
TAN
Well this is a very difficult dilemma but there are three main areas they would need to consider:  the first is competence, which means we would be having to look at whether Kate is able to make a valid treatment decision.  And the second area is the whole issue of palliative care, what it means and whether it's appropriate for someone in Kate's case.  And the third is the law allows us to treat someone without their consent if they have a mental illness and are at risk using legislation called the Mental Health Act and should we be thinking about this.
PARRY
So let's start the discussion by exploring that question of competence.  Does Kate's anorexia affect her thinking and choices she might make about her illness?  Is she able to make a decision to refuse treatment? And how does a mental illness affect questions of competence, if indeed you regard anorexia as a mental illness?
STEWART
I think the first thing we need to understand what we mean by competence and under the new Mental Capacity Act, which is due out later this year, there is a legal definition of competence which says that legal capacity is the ability to understand the information relevant to a decision, to retain the information and then to use or weigh the information as part of the process of decision making and then to be able to communicate that decision.  Now anorexia nervosa is complex, as sufferers with anorexia often are highly intelligent, have considerable knowledge about their disorder and are able to reflect on their condition.  However, there are a number of ways in which competence is impaired in anorexia nervosa, particularly first of all, with thinking about the strict legal definition of capacity, sufferers with anorexia nervosa may have some form of cognitive impairment, so at very low weight sufferers may commonly find it hard to think clearly, their thinking may become muddled, they find it hard to concentrate ...
PARRY
As indeed you would if you were starving.
STEWART
Well that's - that's exactly right.  So they may fall, therefore, under the legal definition of capacity.  But in addition to that they may also find it hard to appreciate the seriousness of their condition which may then make it hard for them to make a decision.  And indeed they may also have a degree of depression, which is common with anorexia nervosa, which makes it hard for them to have a positive view of either their illness or their treatment or their future.
PARRY
Jasinta, why is competence such an issue here?
TAN
Well I think when it comes to decision making in anorexia nervosa beyond the thing about understanding and reasoning about the facts, anorexia nervosa is the kind of disorder that can also affect people in how they make decisions in a broader sense.  For instance it can affect the way people feel about themselves and people can experience anorexia nervosa as part of themselves and this obviously would have implications for whether they feel they can be recovered from this illness or whether they want to in fact, what would they be without it?  And also having anorexia nervosa can change your values, it can change the things you see as the most important to yourself, typically it makes being thin very important, even to the level where you would be willing to die rather than gain weight.  And so these things, as well as many other things, can affect the way you make decisions.
PARRY
Simona, is this view of competence that's being outlined here something that you would go along with?
GIORDANO
Absolutely not.  I think this concept of competence as something that is unique to the population of people with anorexia is discriminatory.  We have one concept of competence which says that people are competent to make a medical decision when they're able to understand the nature of their disease, the nature and purpose of treatment and to weigh the risks and benefits of proposed treatments and alternatives.
PARRY
So you don't take the view that someone with anorexia has had their reasoning capacity disturbed by the illness itself?
GIORDANO
No, competence is independent of the rationality of the reasonableness of the decision.  We have a right to be unwise, irrational or wrong.  We can refuse medical treatment, even life saving medical treatment, for reasons which are irrational, unreasonable or for no reason at all.  People have a right to commit suicide and to starve themselves for political reasons and the Jehovah Witnesses refuse blood transfusions because they believe that they will go to hell if they accept medical treatment.  And many people would regard this as an irrational process of reasoning.
PARRY
Jasinta, how far do you go along with this idea that anorexia is somehow different?
TAN
I think it would be different because I think if you had political views and you were willing to die for them those views are things that you choose to have.  And I think the important thing about having a mental disorder is that these are not things that you choose to have, that these are things that affect you.  So, for instance, Kate may feel if she's in the grip of the anorexia nervosa, as opposed to simply dieting because it helps her ballet, then she may not be able to choose to be otherwise than she is.  And then if she recovers from anorexia nervosa she may subsequently change the way she views thinness for instance and what she feels is the most important in her life.
PARRY
Simona.
GIORDANO
I think that there is a mistake here in the fact that we use two different criteria for two different populations.  I'm not saying that the person with anorexia is necessarily competent to make a decision but I'm saying that it's not necessarily incompetent to make a decision.  If we have one legal concept of competence that we apply to all people we should apply the same concept to anorexia nervosa.  So if the anorexic has the understanding of her condition and the understanding of the proposed treatment and the understanding of what will happen if she refuses medical treatment then they are legally competent.  It doesn't mean that they should be respecting them - they should be left to die.  If we say they're not competent because of particular reasons, which we do not apply to other patients, we are using a discriminatory attitude towards anorexics.
PARRY
Okay Anne, how does this apply to Kate's case?  I mean has she got values that are sick values?
STEWART
I think that's the issue is that Kate's values appear to have become distorted in a way, particularly in a way that she's not comfortable with.  She finds it very difficult having a disorder but feels almost compelled to continue with her disorder.  This would be different to the case of a Jehovah's Witness who has chosen a certain lifestyle and holds that view consistently and applies it to their life.  The sufferer with an eating - with anorexia nervosa finds their value system almost controls them and they find it very difficult to find a way out of their disorder which makes it therefore difficult for them to make a competent decision to have treatment.
PARRY
Jasinta, what's the difference here between say a mental illness like schizophrenia or perhaps a long term neuro-degenerative condition where somebody is wanting to die?
TAN
Well I think the difference would be about whether the mental illness or the neurological condition is affecting the way you make decisions and how you make decisions really.  I'm not trying to say that I think everybody with anorexia nervosa is not competent to make decisions, I think far from it, but what I think is having a mental illness can affect the way you make decisions.  So, for example, someone who's extremely depressed and can't see a way out of it may be perfectly able to understand the facts but may still feel that suicide is the best option, but that's because of the depression.  So I think in a similar way someone with severe anorexia nervosa could certainly feel quite trapped by the disorder and be unable to contemplate the idea of recovery.  And it sounds like Kate could be like this.
PARRY
Simona, would you go so far as saying that anorexia nervosa isn't a mental illness?
GIORDANO
But mental illness is a name given to a pattern of behaviours.  So you are called mentally ill, you are called anorexic because you display low weight, because you want to die because you fear fat but you do not want to be thin for your weight and have those experiences because you are mentally ill because you've got anorexia, because having anorexia means having those behaviours and it's not the cause of it.  Anne said people with anorexia feel compelled to seek for thinness, feel compelled to have this fear of fat.  Well people with obesity also feel compelled to eat, they would like to be different and they can't do it differently but we don't force diet them.
STEWART
I think there's two issues here.  One, you mentioned obesity, but the person with obesity doesn't perceive themselves as thin, the person with anorexia nervosa may perceive themselves as fat but also have very much an over valued idea about the notion of putting on weight.  So that's one issue.  But the other issue in relation to whether anorexia nervosa is an illness or not, there is considerable research now looking at the biological basis to anorexia nervosa.  There is for instance a very high genetic origin to anorexia nervosa and anorexia nervosa is also a disorder that does occur in other cultures and cross history which point towards something a little bit more biological.  It's not quite clear exactly what it is that's inherited, what is the biological basis, but there is a lot of interest in looking at biological predisposition to anorexia nervosa.
GIORDANO
As Jasinta said I also am not saying that necessarily those with anorexia are competent to refuse life saving treatment, I'm only saying that it shouldn't be taken as a default position that somebody who is in the grip of anorexia is unable to refuse medical treatment and to die.
TAN
I think I agree with you there, I don't think having anorexia nervosa means that you can't make decisions and I would hate for people to think that that's what I or any other psychiatrist believes.
PARRY
You're listening to Inside the Ethics Committee on BBC Radio 4.  And today we're discussing the case of Kate, a young woman with anorexia nervosa who has had years of treatment which she feels hasn't worked. She wants the option of stopping treatment and going into a hospice. Let's hear from Kate again.
KATE
At the time of wanting to die I obviously didn't want to be well and I didn't want to participate in anything that would get me there.  Anyway I did but it just felt so difficult, it was too agonising to go through and if you don't want to get better it does make the treatment so much harder because you don't have a choice about it anyway and you have to do it.  So if you don't want to do it, it does build up a wall that you can't break down and it's very, very difficult to engage in it.
PARRY
Kate's psychiatrist and eating disorders specialist takes up the story of what happened next.
PSYCHIATRIST
Really as things deteriorated Kate pushed more and more to be able to be allowed to be left to die and she actually made contact herself with a hospice to seek palliative care. Well the hospice of course were pretty worried and concerned about whether it was the right thing for them to be doing. They had no past experience of working in that way of looking after people with anorexia nervosa, obviously much more involved with people with medical conditions that were terminal.  So they contacted us to seek sort of help and advice about what they should do and actually were very helpful in working - trying to work with us in offering perhaps a respite place for Kate to go to rather than palliative care as somewhere for her to die but perhaps somewhere for her to have breaks from an eating disorder unit at various points in time.
PARRY
And one of the many difficulties of this case was that not everyone who was involved in her care agreed about the best course of action for Kate. 
PSYCHIATRIST
Others who had been involved in Kate's care in the past and one of the medical doctors who'd been involved in her care were less clear that we should continue with treatment against Kate's will. The argument being that although yes this is a mental illness and our Mental Health Act says that we shouldn't allow people to die of mental illness without treatment but on the other hand she had had a very good trial of very - pretty effective treatment that had been able to help her get to a healthy weight and help her sustain a healthy weight for really quite a long period of time and that despite that they still hadn't been able to help her find the motivation to keep going; to want to live; to want to battle her illness. So the counter argument was that having had a good course of treatment and been at a healthy weight perhaps she really was entitled to make a decision that she didn't want to go through that treatment again.  And that anyway we couldn't argue that the treatment was going to be effective.
PARRY
Kate's mother has been involved with her treatment from the very beginning of her illness.
KATE'S MOTHER
Well it's very difficult to accept in lots of ways especially when you yourself have this belief that things could - you know that you could turn  this round. In a way it's kind of out of your hands and yet you feel a huge responsibility for it. It's not easy really. It's what she wanted to do and I think she wanted some respite from the treatment. Could she just go there for a little while because treatment was so difficult and I think that would have been reasonable. How she would have then fared amongst people who were definitely going to die I don't know?
PARRY
Well here we've got a situation in which a young woman has widely and clearly articulated her wish to stop having treatment for her anorexia. She has even visited the hospice where she would like to go. But palliative care is designed for people who have a terminal illness. The World Health Organisation definition includes the wording:  "The active total care of patients whose disease is not responsive to curative treatment".  So should Kate be allowed to opt for palliative care? Is it an appropriate course of action for a condition which isn't an illness which will definitely end in death?
Should Kate have continued treatment if it hadn't been successful over the last 10 years, should she be offered palliative care?
STEWART
Well in terms of the recovery of anorexia nervosa a number of studies have been done and roughly the proportions are that a third of sufferers with anorexia nervosa will make a full recovery but another third may make a partial recovery and a final third may not recover.  And the mortality is high in anorexia nervosa, it is around 6%, so it is a serious disorder.
PARRY
But how do you decide - how do you know which group someone like Kate is going to fall into, I mean when do you decide that - is it after 10 years of treatment, is it after 20 years of treatment?
STEWART
I think that's a very difficult issue.  Now the average length of treatment in any case is around five years, so we're talking about a long period of treatment.  We know that sometimes people can recover, even after 20 or more years of treatment, so recovery isn't ruled out, even after 10 years of treatment.  Now for the purpose of this discussion within the ethics committee I would want to know a bit more about Kate, I'd want to know what sort of treatment she has had, what her experience of treatment has been, whether there have been treatments which have helped or treatments which haven't helped, what her relationship is to her professionals and to her family so that I can assess her reason for wanting palliative care.  And I'd also want to know what she means by palliative care as well and whether she really knows that this might end in death.
TAN
Yes and I think that's one of the problems of thinking about palliative care for a mental disorder.  Palliative care was traditionally used for cancer patients when cancer in fact was a sentence of death and in fact there are now more difficulties in thinking about it.  And generally when one accepts palliative care there's a mutual agreement between the patient and the family as well as the professionals that actually this illness is going to end in death and I think that might be the ethical issue here, about is that necessarily the case, is it appropriate to think of it as palliative care.  Which is not the same as saying shouldn't we be looking at how we can help Kate in terms of making her feel more comfortable.
PARRY
Because it seems here that it's more a case of Kate feeling hopeless about her treatment, where depression is a major part of her story and indeed where she sees palliative care not as an end to her life but more of a respite.
STEWART
And I think I'd want to know what other options she'd considered because she may have a fairly rigid notion that it's either palliative care or going towards full recovery as quickly as possibly and there may be a range of options which could be offered to her which might include going to an intermediate position where she was able to maintain a weight which was lower than a normal healthy functioning weight but a weight at which she could survive and she wasn't in danger of death or serious physical complications.  So I'd be interested to know what other options she had considered.
PARRY
Does Kate's age make a difference - she's 27, so she's not a teenager with a anorexia, she is an older person with a lot of experience?
TAN
Well legally she's certainly an adult and that's a very important fact, so you can't treat her as a child anymore.  But given the usual trajectory of anorexia nervosa it's really quite common for people to have anorexia and are also still in their 20s.  And so that doesn't necessarily mean that she's going to have it for the rest of her life or that it's going to end in death for her.
PARRY
Simona, are there situations for you where it's not only ethical to respect the right to refuse treatment but also very much unethical to continue it?
GIORDANO
There are cases in which you should let people go.  Competence is not just the only factor that we need to take into consideration, so respect for their autonomy is one of the factors but not the only one.  But there is also a factor of whether or not she has a genuine chance of recovery.  Jasinta and Anne say well after 10 years or 15 years it doesn't necessarily mean that the person is going to die and that's probably true but there is a point in which if the person reiterates a request to die and she has tried several different approaches - let's say, I can make an example, let's say that we have a patient with - in her late 20s or early 30s, she's had anorexia for 15 or 20 years, she's been treated unsuccessfully with psychotherapy, pscyhoanalysis, cognitive behavioural therapy, family therapy - she's been hospitalised, on one occasion she pulled out the infusion line, on one occasion she pulled out the nasal gastric tube, on another occasion she attempted suicide as soon as she was discharged from hospital.  She's attempted everything, she is competent to make a decision, her family is supportive of the decision, they are coming to terms with the decision to let her go, she's competent to make that request.  I think in this case the decision should be considered - palliative care should be considered in a situation like that.
PARRY
So Anne and Jasinta, should you give palliative care for someone who clearly considers that their condition is terminal?
STEWART
Well I think one of the key things is the relationship of the sufferer with the professional treatment team and often patients when they look back at their treatment process highlight the importance of developing a trusting relationship with their professional where they feel respected and valued.  So in this situation the crucial thing is to really try and build up that engagement so that one can make overt some of the dilemmas which the sufferer may have and discuss it in a way that leads towards some collaboration.
PARRY
So are we saying here that actually it might be more important to, for instance, bring in another team or a second opinion or to move away from the current treatment paradigms that she's been involved in?
STEWART
Well I think it might be because as professionals we do have to be honest with our own treatment process and realise that at times we haven't been able to make a breakthrough with a particular patient and getting a second opinion might be very helpful to enable us to change tack or another treatment team to be involved.
TAN
I think what's striking for me with regard to Kate and what she said about her treatment was that the treatment was very much done to her, that she had to be heavily sedated and it just happened to her and she wasn't part of it.  And I'm wondering about whether she could have a conversation with the people who care for her about how she could have her views respected a little bit more, rather than it being death or complete, you know, charging towards recovery.
PARRY
And this is something that you've researched isn't it.
TAN
Yes it is.  People do say that they actually are quite happy sometimes to have treatment that they didn't particularly want, as long as they feel that their views are respected and heard and that they have a trusting relationship with the people who care for them.  And it's that relationship that's far more important to them than actually whether they make the decision or whether a clinician makes the decision, that actually it's more that decisions get made together and sometimes patients feel more or less able to take part in those decisions.
PARRY
So in some ways if one went along with what Kate is asking - to go for palliative care - actually that might be the beginning of her recovery, rather than the beginning of her decline?
STEWART
Well I think that's difficult because palliative care is actually a very serious option to go for, if it's going to involve perhaps not feeding Kate and therefore the risk is that she might die.  I think the important thing is to make the dilemmas overt and try as far as possible to collaborate with Kate and look at the range of options that are possible.  I think that if one just went down the route of palliative care Kate might actually feel a bit let down because insider herself she may be wanting to get better, in fact she does - she did say earlier that she finds the disorder very difficult and would like to be rid of it.  Palliative care may be the only way she knows of getting rid of it but deep down she may be wanting - she may be wants to be helped in some way.  So I think just going along with her option might actually be quite a risky option to take.
PARRY
Let's move on now to the final part of our discussion on Inside the Ethics Committee and I wanted to pick up the point that Jasinta raised earlier about invoking the Mental Health Act, which allows treatment to be given to people against their will when they're in danger of harming themselves because they're incapacitated by mental illness. But first let's hear again from Kate.
KATE
It's the most important thing in your life to not eat and to feel hungry and to starve and all of those things which kind of keep you sane in a way although actually you go completely insane.  And I could not eat or drink anything. The fear of - in the end you lose all idea of what the fear is and for whatever reason you cannot eat. 
PARRY
Jasinta, just remind us firstly, what the Mental Health Act does and what it's there to do.
TAN
Well there are Mental Health Acts for England, Wales, Scotland and Northern Ireland, some of them differ slightly but generally speaking there is legislation that allows our mental health professionals to treat patients who have a mental disorder without their consent if there is an issue of risk, either to others - which is not relevant in anorexia nervosa - or to themselves.  This is actually not with respect to competence, so competence is not actually mentioned in the Mental Health Act.
PARRY
So should we be using the Mental Health Act to treat someone with anorexia?
STEWART
I think using the Mental Health Act can be very difficult for patients, as it does ultimately take away their ability to refuse treatment.
PARRY
And it's a very aggressive act really, I mean surely one would want, wherever possible, to have collaborative treatment rather than kind of an aggressive - we're going to lock you up.
STEWART
Well that's true although in fact the way the Mental Health Act is carried out it can be done in a way that respects the patient as much as possible.  And even though the bottom line is that they are going to help them eat, there may be other ways in which the patient can be given autonomy and ability to make choices within their treatment programme.  But having said that I think the Mental Health Act does need to be reserved for those patients who are very seriously ill, at the point of having life threatening complications, earlier on in the treatment I think it's very important to collaborate and work towards the person themselves developing their own motivation for their disorder because I think that's far preferable and a much better way of helping them progress throughout treatment.
PARRY
And there would be no question about using the Mental Health Act where someone was threatening to commit suicide.
TAN
Yes and patients with anorexia nervosa fairly uniformly in research actually say that they think the Mental Health Act should be used to save life.  They make a distinction between saving life and forcing people to have treatment towards recovery.  So most  patients would say that they have to make the decision to recovery, they have to want the treatment and particularly as it involves a lot of psychological treatment that obviously you can't force people to have that kind of treatment.  But when I interviewed patients with anorexia nervosa they all said that they thought that because it's a treatable disorder you should save people from death and that they are glad when that is done even though it's not a pleasant experience sometimes.
PARRY
Simona, doesn't that really go contrary to what you were saying?
GIORDANO
Well no it's not exactly contrary but I think that there are more than one imperative in medicine, there isn't only save life, there is also respect people, respected in their dignity and respect their wishes.  And according to the research I have looked at only the Eating Disorders Association reported that 50% of the patients who have been forcibly fed say that they are thankful for that.  But there is no scientific reliable data that has been published on a scientific journal - this 50% is reported on a website, so it's a kind of personal experience from the Eating Disorders Association but nothing really scientific.
STEWART
Sorry if I can just come in there.  I think it's important to be clear what we mean by forcibly fed because a number of people who come into hospital under the Mental Health Act, once they're actually in hospital will eat with encouragement and very few would need nasogastric feeding.
PARRY
Yes there's a difference between you know standing over someone to make sure that they eat what they've been given and actually forcibly feeding them with a nasogastric tube.
STEWART
That's right.  And there are ways of helping and supporting people to eat which isn't coercive but which is encouraging, maybe persuading, but not done in a which doesn't respect the person.  So I think it's very important to be clear what we mean by that.  Coming in under the Mental Health Act does not equate with force feeding as such.
TAN
I think the issue of control is irrelevant here, that you mentioned earlier Simona, because a lot of patients with anorexia nervosa find that even if they want to have treatment they can't actually say that they want to have treatment because it's part of having anorexia nervosa for some people that they need to hang on to it.  And actually they feel quite relieved when people help to take control.  And this control dynamic can be very interesting that you need to be in control but feel so out of control that when other people help to control you it can be quite a relief.  But then it's important that if other people do exert some control that it's not done in a way that's felt to be harsh and disrespectful and that's very much a theme that comes out from people.  And I would also like to point out that the Mental Health Act is a formal way in which you can treat people without consent but in fact for a large number of psychiatric patients of all kinds there is quite a common use of what we would call leverage, which is actually using the prospect of withdrawal of services, in some cases like in the US where the research has been done, withdrawal of money and support, or perhaps the prospect of an assessment under the Mental Health Act - these prospects are actually used to actually persuade patients to have treatment.
STEWART
But actually if you listen to the patients themselves what they say is that it's not - it's not so much how they're persuaded or whether they're made to eat, it's actually how it's done that's important and if it's done in a way which respects them and listens to them and hears the difficulties and the fears they have about it, then it is seen as facilitative rather than coercive.
PARRY
Is anorexia something where an advance directive might be an appropriate measure?
TAN
If you talk about an advance directive it's very important when you're setting up an advance directive that you're actually really competent at the time that you're doing it, that's quite important.  And I actually have had a patient tell me about how own situation where when she was well she knew that she became unable to want to have treatment when she dropped past a certain weight and she wanted her professionals to actually treat her, even if she was saying no at that point.  So in that case she actually wanted to have some sort of advice directive where people gave her treatment in spite of her protestations when she was low in weight.
PARRY
So the reverse of the normal...
TAN
Absolutely.
PARRY
.. that we see.  Simona?
GIORDANO
Well I think that the advice directives utilised in the field of psychiatrists raise important issues and one is precisely this, that it would be reversed.  Normally advance directives are legally binding when the patient refuses treatment but not when a patient requests treatment.  And in this case it would be rather the reverse situation, so this would probably raise subtle and important ethical legal problems.  And the other problem is that although in principle advance directives are an instrument to protect people's autonomy because at the time you're competent you decide that at some future time you will not want to be rescued, will not want to receive certain treatments.  So it's a protection of your autonomy.  But in practice it's very difficult to apply them even in straightforward cases of terminal illnesses, they're very difficult instruments to apply.  I think that in the field of psychiatry they would be even more difficult to apply.
PARRY
I want now to come to each of you to give me what your advice to an ethics committee discussing Kate's case would have been.  Let's start with you Anne, what would your advice have been?
STEWART
Well I wouldn't recommend the palliative care option because I see Kate as a vulnerable person who perhaps is not competent to make that decision for herself.  But I would be recommending really trying to collaborate with Kate, to hear what her views are about the treatment that she's had and her worries and fears are about the current treatment and to try and work towards some sort of middle ground so that she's able to move from the position of being at a life threatening low weight to being able to actually move forward to perhaps a weight that's not the final weight but a plateau, a middle ground.  But the key thing to really try and collaborate with her and with her family as well who are clearly going to need to support her through this process.
PARRY
Simona, what would you advice be?
GIORDANO
In the case of Kate I know too little to say let her die or treat her.  From what I understand in this case Kate has only been treated by one set of clinicians and therefore I would attempt a negotiation with her in terms of a different alternative to the treatment she's had now, rather than let her go.
PARRY
Jasinta.
TAN
I think I would feel very concerned about the whole notion of palliative care, particularly when we're in an arena where the Mental Health Act also applies, it's possible to use that.  And I think I feel it would be very important to explore with Kate why she wants palliative care and actually to try to redesign her care with her, so that she can get the aspects that come with palliative care usually, which are about being made comfortable, about not feeling so much pain and struggle and agony.  And it might be that she can't have active treatment for a little while but she does need the respite that was mentioned.  So I would actually try not to give her palliative care but also try to respect the fact she's saying for now enough and I think that can be done without actually condemning her to death.
PARRY
Before we discover what happened in the real life case let me thank our panel.  Anne, Jasinta and in Rome Simona.
Now what happened.  Kate's case was considered by a clinical ethics committee.  Their advice was that palliative care wasn't appropriate and Kate would continue to be treated. An eating disorders expert was also asked to meet Kate and give a second opinion. So Kate was effectively offered an in between solution - getting to a target weight that she could live with, still terribly low, but not so low as to cause her death. Three years on, she is still living with the condition but the difference now is that she wants to get well.
KATE
I hate it, I really hate the anorexia now. If somebody invented a tablet which would make me be completely well overnight I would take two. I would love to not have anorexia but I have to accept that actually at the moment I have got the anorexia, partly it's still my friend in a way because I do still hold on to it, I am still petrified of being a healthy weight and I'm petrified of some foods but I eat them anyway. And I'm prepared to face the fear because I hate the anorexia so much and just try and take each step at a time as I can. In the moments when I hate it take a step, in the moments when it's my friend just stay where I am.
PARRY
You've been listening to Inside the Ethics Committee and if you'd like to have your say, or find out more information about the topics covered in this programme then go to bbc.co.uk/radio 4 and follow the links to Inside the Ethics Committee, where you can leave your comments. Or you can call the Radio 4 Action Line on 0800 044 044.
Next week, in the last programme of the series, we'll be considering a case that arose as a result of the 7/7 bombings in London.
ENDS