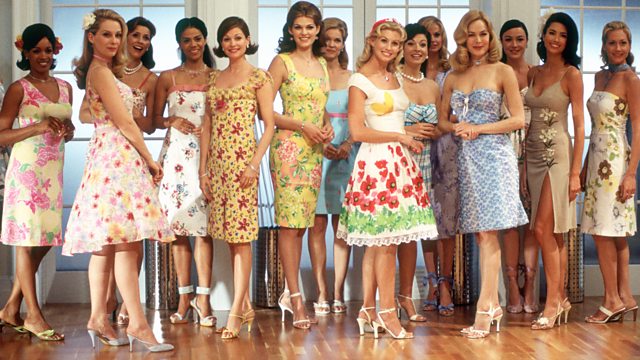 The Stepford Wives
Modern film adaptation of the 70s drama.
A former TV executive and her husband look for a fresh start in handsome Stepford, but there is something eerie about the town's perfectly groomed wives.
BBC iPlayer - The Stepford Wives
This programme is only on BBC iPlayer for 7 days after broadcast, and cannot be downloaded, only streamed. We always aim to offer our programmes to stream and download for 30 days; however for a number of reasons including technical problems, legal or contractual issues this isn't always possible.
Credits
| Role | Contributor |
| --- | --- |
| Joanna Eberhart | Nicole Kidman |
| Director | Frank Oz |
| Walter Kresby | Matthew Broderick |
| Bobbie Markowitz | Bette Midler |
| Claire Wellington | Glenn Close |
| Mike Wellington | Christopher Walken |
| Roger Bannister | Roger Bart |
| Jerry Harmon | David Marshall Grant |
| Dave Markowitz | Jon Lovitz |
| Pete Kresby | Dylan Hartigan |
| Kimberly Kresby | Fallon Brooking |
| Sarah Sunderson | Faith Hill |
| Herb Sunderson | Matt Malloy |
| Producer | Scott Rudin |
| Producer | Edgar J Scherick |
| Producer | Gabriel Grunfeld |
| Producer | Donald De Line |
| Writer | Ira Levin |
| Writer | Paul Rudnick |