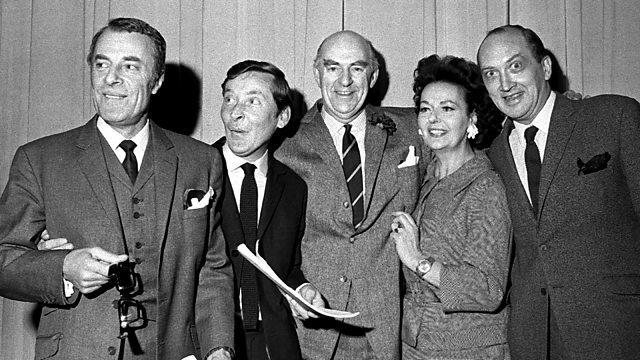 Kenneth Horne in a roaring 1920s film spoof 'Thoroughly Modern Willy', Rambling Syd Rumpo sings of a nadger and Julian and Sandy come over all transcendental with Bona Gurumat.
With Kenneth Williams, Hugh Paddick and Betty Marsden.
Recorded at the BBC's Paris Studio in Lower Regent Street, London. Announcer: Douglas Smith
Round The Horne was born out of the demise of BBC radio comedy Beyond Our Ken, after the end of writer Eric Merriman's involvement. Using the same cast and producer, Barry Took and Marty Feldman were persuaded to write the scripts - which led to four series that ran between 1965 and 1968 - packed full of parodies, recurring characters, catchphrases and double-entendres.
For series 4, Marty Feldman was replaced by Brian Cooke & Johnnie Mortimer and Brian Webster
Music by the Max Harris Group.
Producer: John Simmonds
First broadcast on the BBC Radio 2 in March 1968.
Last on