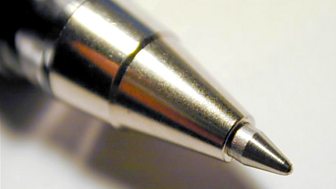 Opening Lines
Series showcasing first-time and emerging writers
Read our blog about the common themes behind this year's entries to Opening Lines.
The 2014 Opening Lines Finalists
We have sifted thousands of submissions to come up with three writers new to radio whose short stories will be broadcast on BBC Radio 4 this August. Huge congratulations to:

Claire Fuller – Baker, Emily and Me

Fiona Melrose – The Fox

Ian Green – Audiophile

Additionally, the following two writers will have their work published on our website:

G.A. Odenigbo – His Guitar Lay Waiting

Lottie Lynn – A Mother's Love

Thank you to everyone who has taken part. We hope you'll read our stories when they're online and listen with great anticipation to our three stories for broadcast in August.
Shortlist
Adam Richmond – The Last Trace
Alison Boyle – Acorns
Anne O'Brien – I Could Have Been Anything
Claire Fuller – Baker, Emily and Me
Chris Lloyd – The Man Who Painted Songs
Dan Powell – Dancing to the Shipping Forecast
Dee Gray – Waiting for Marnie
Fiona Melrose – The Fox
G.A. Odenigbo – His Guitar Lay Waiting
Hilary Park – Blencathra
Ian Green – Audiophile
Jim Vincent – Snow
Joe White – Fortune Teller
John May – Dancing on my Father's Footfronts
Kirstie Ali – The Funambulist's Daughter
Lottie Lynn – A Mother's Love
Maithreyi Nandakumar – The Innocent and the Book-Lender
Marion Urch – The Temptation of Kevin
Neil Hegarty - Mackerel Sky
Sheila Llewellyn – Soldier's Heart
Longlist
Alan McCormick – Message to You
Alex Cary – The Shades
Alexandra Citron – After the Party
Alwyn Marriage – William Harvey's Visitor
Amanda Murphy – The Comb's Teeth
Angela Readman – Small Water
Anthony Jones – Static
Anthony Rothe – Greg Sampson's DOI
Cara Jessop – A Sea Change
Catherine Turnbull – Treading Water
Cheryl O'Brien – Life Study
Colin Watts – Glass Darkly
David Barry – The Poet in Soho
David Ford – There's Something I've Got to Tell You
David Stokes – Musings of the quantum cuttlefish
Ed Briggs – Light Sensitive
Emma Zetterstrom – Scissors paper stone
Eric McFarlane – Strange Country
Erica Rocca – Greetings from Carolyn
Fab Gorjian – The Unfamiliar
G.S. Craig – Shuttered Windows
Gail Honeyman – About the Major
Grace Chapman – The Kite Keeper
Graham Haynes – The Time Maiden
Helen Patuck – Woman Much Missed
Helena Durham – That's How It Starts
Holly Dawson – The Height of Trees
JA Sutherland – Adrian and Isaac
Jamie O'Connell – What Men Do When They're Alone
Jane Fox – How Lumpy Got His Name
Jane Turner Goldsmith – Boy, falling
Jennifer Thorp – Recipe For A Funeral Feast
Jenny Vernon – Dipping in the Direction of Heaven
Jo Roberts – Here Kitty Kitty
Judi Sutherland – A correctional facility
Julie MacLusky – Outback
Kate Coffey – The Insides of Animals
Katie Barradell-Smith – We Are Spring
Kevan Ogden – Blood-Lines
Lisa Jackson – Small Boats on Hard Earth
Lisa Smith – Love Thy Neighbour
Margaret Dolley – Where The Golden Apples Grow
Margaret Holbrook – Our Brian
Maria Fusco – Knowing the Answer is Worth Nothing
Matthew Howard – Gull
Megan Taylor – On the Island
Melanie Amri – Frozen
Michael Amherst – Erosion
Natalie Lloyd-Evans – The Last Beetle
Paul Bellamy – The Bougainvillea Fishes
Penny Ayres – How To Be A Good Poltergeist
Philip Arnold – One Man's Meat
Richard Blandford – The Man Who Drew the Brook
Rosia Beer – Home
Rowena Macdonald – Stars
Russell Reader – Mind The Gap
Ruth Brooks – The Plan
Sacha Kyle – Fish Bowl
Samantha Braham – No Words Needed
Sarah Corbett – The Winter King
Sheena Cook – A Stranger In My Summerhouse
Sherry Morris – Balloons
Simon Sylvester – Art is Long, Life is Short
Sophie Whitley Flavell – Northern Lights
Sue Crowder – Adored
Tanya Alexander – Touching
Tom Collins – ...ma non troppo
Trudy Duffy – Adagio in B Minor
Virginia Lowes – Riding Pillion
Wendy Clarke – I Saw You But You Didn't See Me
Wendy Clemson – Putting on a Show
Wendy Holborow – Ngozi
Yasmin Murgai – Out of the dust, light and Power
Submission guidelines
The BBC Radio Drama Readings Unit welcomes submissions from writers new to radio for their annual series, Opening Lines which is broadcast on BBC Radio 4.
We are currently not accepting unsolicited stories. We will be announcing the date of our next window for submissions in the autumn. So watch this space!