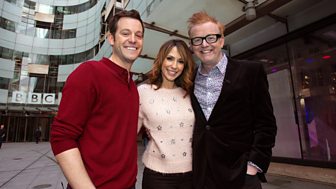 The One Show
Hosted by Alex Jones, Matt Baker and Chris Evans, and aided by a team of top reporters, The One Show is a live magazine programme featuring topical stories and big name studio guests.
Recipe: Ricky's homemade spiced tomato ketchup
1kg tomatoes, roughly chopped
1 large red onion, roughly chopped
1 stick celery, roughly chopped
3-4 cloves garlic, crushed
1 dessert spoon tomato puree
1 sprig fresh basil
100g sugar
150ml red wine vinegar
Salt and pepper
2cm piece of cinnamon stick
10 allspice berries
4-5 whole cloves
1 star anise
2-3 blades of mace or ½ tsp ground mace
1 bayleaf
1 dessert spoon olive oil
Put the olive oil into a saucepan on the stove over a medium heat.
Lightly crush the cinnamon, allspice, cloves, star anise, mace and bay.
Add the spices to the oil stir around briefly then add the onion, garlic and celery.  Cook the vegetables and spices for a minute or so then add the tomatoes, tomato puree, basil, sugar, vinegar and a good pinch of salt and pepper.
Place a lid on the pan and simmer for twenty minutes.
Remove the lid and continue to cook for a further 30-40 minutes until the mixture is reduced and the consistency looks thick
Remove from the heat.  Blend the mixture until smooth (leaving all the spices etc in the mixture).
Push the mixture through a fine sieve to remove any bits and ensure a smooth consistency.
Bottle the mixture into sterilised bottles or jars.
Yummy....
Recipe : Sardines with coarsely chopped green herbs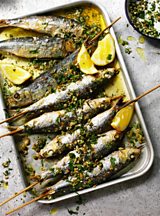 Alternative Fish: Anchovies, small herring, horse mackerel (scad), small mackerel, smelts, sprats

Serves four as a first course

1 tbsp finely grated lemon zest
½ tbsp. finely chopped rosemary
1 tbsp finely chopped parsley
1 clove garlic very finely chopped
½ tbsp. finely chopped pitted green olives
½ tbsp. chopped capers
½ tbsp. sea salt flakes
¼ tsp freshly ground black pepper
8 sardines, cleaned and trimmed
Extra virgin olive oil, for brushing and serving
Lemon wedges to serve

It's important to remember to soak bamboo skewers in cold water for at least half and hour before using them so they don't scorch.
 
Mix together the lemon zest, rosemary, parsley, garlic, olives, capers, salt and pepper.
Set to one side.
 
Preheat the grill to high. Pierce each sardine from head to tail with a skewer. Lay them on a lightly oiled baking tray and sprinkle them with some extra virgin olive oil, salt and pepper. Grill for 2 minutes on each side.
 
Serve the skewered sardines scattered with the herb mixture, drizzled with a little extra oil and with the lemon wedges alongside.

Enjoy your dish

Behind the scenes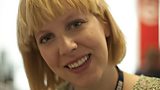 The One Show studio researcher, Becky, gives us an exclusive insight into life as a member of the production team.