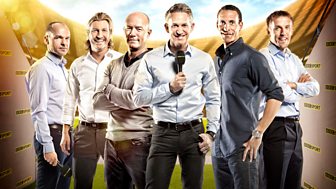 Match of the Day
Highlights and key analysis from all the day's games in the Barclays Premier League.
On TV
There are no upcoming broadcasts of this programme
Last on
Check out the tracks used as our 'Coming Up' music this season on Match of the Day.

MOTD is available on BBC iPlayer from midnight on the Monday evening after it airs.
Match of the Day - March 21st
1.Tottenham v Leicester, 2.Newcastle v Arsenal, 3.Manchester City v West Brom, 4.Southampton v Burnley, 5.Stoke City v Crystal Palace, 6.West Ham v Sunderland, 7.Aston Villa v Swansea.
Match of the Day tweets
Content from Twitter. Learn more about content from Twitter.