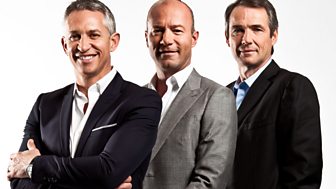 Match of the Day
Highlights and key analysis from all the day's games in the Barclays Premier League.
MOTD - March 8th
1.Chelsea/Spurs, 2.Cardiff/Fulham, 3.WestBrom/ManUtd, 4.CrystalPalace/Southampton, 5.Norwich/Stoke.

Team of the Day - March 8th
1. David de Gea (Manchester United) made three saves, all from inside the box, and kept a clean sheet against West Brom.
2. Rafael (Manchester United) made more tackles than any other PL player today (seven), winning possession with six of them.
3. Steven Caulker (Cardiff City) has four Premier League goals this season, the only defender with more in 2013-14 is Seamus Coleman.
4. Phil Jones (Manchester United). Both of Phil Jones' Premier League goals for United have come in the West Midlands (at Villa and WBA).
5. Luke Shaw (Southampton). The England international touched the ball 48 times in the opposition half, the most of all defenders, and also completed four dribbles.
6. Marouane Fellaini (Manchester United) made a league-high 71 passes today and also made five interceptions.
7. Bradley Johnson (Norwich City) scored his third Premier League goal of the season; the same total he managed in his first two campaigns combined.
8. Kim Bo-Kyung (Cardiff City). No player had more shots on target than the Cardiff midfielder today (three).
9. Eden Hazard (Chelsea) has scored (22) or assisted (18) 40 Premier League goals since he joined Chelsea in 2012.
10. Wayne Rooney (Manchester United) is the first player in Premier League history to record double figures for both goals & assists in five seasons.
11. Jay Rodriguez (Southampton) has eight away goals in the Premier League this season, joint-highest with Suarez, Sturridge and Rooney.