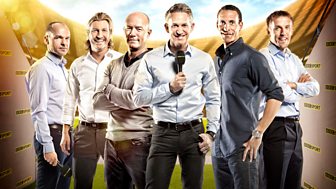 Match of the Day
Highlights and key analysis from all the day's games in the Barclays Premier League.
Match of the Day is available on BBC iPlayer from midnight on the Monday after the show.
MOTD - October 18th
1.Southampton v Sunderland, 2.Manchester City v Tottenham, 3.Crystal Palace v Chelsea, 4.Arsenal v Hull City, 5.Burnley v West Ham, 6.Everton v Aston Villa, 7.Newcastle v Leicester.
Team of the Day - October 18th 2014
1. Joe Hart (Manchester City). Only one 'keeper (Hugo Lloris - 8) made more saves than Joe Hart on Saturday, with the England man now conceding just two goals in his last three Premier League games.
2. Seamus Coleman (Everton) has scored eight goals since the start of last season, more than any other defender in the Premier League.
3. James Collins (West Ham United) made 19 clearances, more than any other Premier League player on Saturday.
4. Phil Jagielka (Everton) opened the scoring for the Toffees, made eight clearances and posted a 94% pass completion rate.
5. Leighton Baines (Everton). With two assists in this game, Baines has surpassed his total in the Premier League in the whole of 2013-14 (had four last season, has five so far in 2014-15).
6. Cesc Fabregas (Chelsea) has been involved in eight goals (one goal, seven assists) is eight Premier League games for Chelsea.
7. Mohamed Diamé (Hull City) has scored four goals in five Premier League games for Hull City. He has never scored more than four in a single PL season (also four in 35 games in 2013/14).
8. Dusan Tadic (Southampton) has been involved in 65 goals (29 goals, 36 assists) in 74 league appearances (Dutch Eredivisie and Premier League combined) since the start of 2012-13.
9. Oscar (Chelsea). Both of his Premier League goals this season have come in the opening seven minutes of games.
10. Alexis Sanchez (Arsenal). Five of his six goals for Arsenal in all competitions have come at home.
11. Sergio Aguero (Manchester City). With 61 goals, Agüero has gone clear of Carlos Tévez (58) as Manchester City's leading Premier League scorer.
Match of the Day tweets
Content from Twitter. Learn more about content from Twitter.
How far will England go at the World Cup?