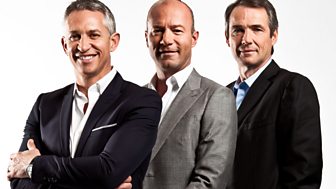 Match of the Day
Highlights and key analysis from all the day's games in the Barclays Premier League.
On iPlayer
This programme is not currently available on BBC iPlayer
On TV
There are no upcoming broadcasts of this programme
Last on
Mon 14 Jul 2014 07:35
BBC Two
Match of the Day is available on BBC iPlayer from midnight on the Monday after the show.
MOTD - May 11th
1:Man City v West Ham, 2:Liverpool v Newcastle, 3:Tottenham v Aston Villa, 4:Norwich v Arsenal, 5:Cardiff v Chelsea, 6:Southampton v Man Utd, 7:Hull v Everton, 8:Sunderland v Swansea, 9:Fulham v Crystal Palace, 10:West Brom v Stoke.
Team of the Season
1. Vito Mannone (Sunderland) averaged 4.5 saves per game this season in the Premier League; a higher ratio than any other goalkeeper.
2. Seamus Coleman (Everton) scored six goals this season, the most of any full-back, as well as keeping 15 clean sheets.
3. Leighton Baines (Everton) created more chances than any other defender (49), as well as netting five goals.
4. Per Mertesacker (Arsenal) played more minutes of football than any other outfield player for a Premier League club this season (all competitions, 4605).
5. Vincent Kompany (Man City). His team won 75% of their PL games with Kompany this term, but just 60% without him.
6. Steven Gerrard (Liverpool) made more assists than any other player this season (13), as well as banging in 13 goals.
7. Yaya Touré (Man City) became only the second midfielder in PL history to reach 20 goals in a season (after Frank Lampard -  22 - in 2009/10).
8. Adam Lallana (Southampton) created more chances than any other Englishman in the PL this term (71, seventh overall).
9. Eden Hazard (Chelsea) created 92 chances in the Premier League this season, no player created more.
10. Sergio Aguero (Man City) had the best minutes/goal ratio of any regular PL player this season (a goal every 91 minutes).
11. Luis Suarez (Liverpool) was the Premier League's top scorer (31) while only teammate Gerrard (13) made more assists than the Uruguayan (12).