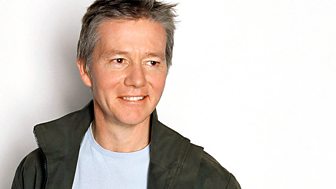 Round Britain Quiz
Radio's most fiendish quiz, with cryptic questions drawing on unpredictable fields of knowledge
Questions
To play along with the panellists and read the full text of the questions each week, just click on the relevant programme date above.
Get In Touch
Round Britain Quiz returns in October, and we welcome your question ideas which will be considered when preparing the next series.
Contact us
Results 2014
The 2014 series was won by the team from Scotland.
The full final results are as follows:
1 SCOTLAND   W3  D0  L1   79 points
2 NORTHERN IRELAND   W2  D1  L1   60 points
3 MIDLANDS   W2  D0  L2   76 points
4 WALES    W2  D0  L2   71 points
5 NORTH OF ENGLAND   W2  D0  L2   66 points
6 SOUTH OF ENGLAND    W0  D1  L3   46 points
Meet The Teams
THE MIDLANDS
Stephen Maddock is Chief Executive of the City of Birmingham Symphony Orchestra. Before joining the CBSO he worked at the BBC Proms for seven years. He is a lapsed violinist, singer and conductor, as well as a quiz and crossword addict and a proud Man City fan. He lives in Solihull with his wife and two children.
Rosalind Miles is an award-winning author of fiction and non-fiction, including The Women's History of the World and the acclaimed historical series featuring Guenevere and Isolde. As a journalist and broadcaster, she has contributed to many periodicals and programmes at home and overseas.
NORTHERN IRELAND
Polly Devlin OBE is a writer. Her first book All of Us There is a Virago Modern Classic, and her most recent book is A Year in the Life of an English Meadow.
Brian Feeney is a respected historian, columnist and commentator, the author of a number of books including Sinn Fein: one hundred turbulent years, A Pocket History of The Troubles, and co-author of the award-winning Lost Lives: the stories of the men, women and children who died as a result of the Northern Ireland troubles. His latest book Seán MacDiarmada is one of a series called 16 Lives -biographies of the sixteen men executed after the 1916 Rising in Ireland.
NORTH OF ENGLAND
Adèle Geras was born in Jerusalem and lived in Manchester for 43 years before moving to Cambridge in 2010. She has published more than 90 titles for young readers and a collection of poetry. Her Young Adult novel, Troy, was shortlisted for the Whitbread Award and Highly Commended for the Carnegie Medal.  She has written five novels for adults, most recently Cover Your Eyes and Out Of The Dark which was one of 2015's Quick Read titles. Her next novel, Love Or Nearest Offer, will be published in August 2016.
Jim Coulson has been setting crosswords for the Times Listener series for more than forty years as well as more recently for the Sunday Telegraph's Enigmatic Variations series and the Independent's Inquisitor series. He is a Consultant Wood Scientist, with HMS Warrior and the Globe Theatre among his prestigious projects, and is a Fellow of the Institute of Materials. He also has a lifelong interest in Morris dancing and folklore.
SCOTLAND
Roddy Lumsden is a poet, who was born in St Andrews. He has published eight collections of poetry, a number of chapbooks and a collection of trivia, and is the editor of Identity Parade, a generational anthology of British and Irish poets of the 1990s and 2000s, among other anthologies.
Val McDermid is the broadcaster and writer known as the queen of the psychological thriller.  A former journalist, her novels include The Skeleton Road, A Place of Execution and the latest in the Tony Hill and Carol Jordan series, Splinter The Silence. She has recently published Forensics: The Anatomy of Crime.  Originally from Kirkcaldy, she is a devotee of Raith Rovers FC.
SOUTH OF ENGLAND
Simon Singh MBE is a science writer. He directed the BAFTA award-winning documentary film Fermat's Last Theorem and wrote the best-selling book of the same name. His other books include The Code Book, Big Bang and The Simpsons & Their Mathematical Secrets. With Professor Edzard Ernst, he co-authored Trick or Treatment? Alternative Medicine on Trial.
Marcus Berkmann writes a weekly column for The Independent, is the film critic for The Oldie and contributes regularly to Private Eye. He has written books about cricket, quizzes, fatherhood and middle age and his next book, Set Phasers To Stun, celebrating fifty years of Star Trek, is out in March.
WALES
Myfanwy Alexander is a writer and broadcaster, casting a satirical eye over life in Wales and beyond from her home in Montgomeryshire.
David Edwards is a son of Barry and a former physics teacher. He was the first person ever to be both Mastermind champion (in 1990) and winner of the jackpot on Who Wants To Be A Millionaire. Before joining Round Britain Quiz he set questions for the programme, and also appeared as a panellist on the Radio 4 quiz series X Marks The Spot.