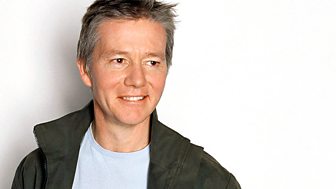 Round Britain Quiz
Radio's most fiendish quiz, with cryptic questions drawing on unpredictable fields of knowledge
On demand
This programme is not currently available on BBC iPlayer Radio
On radio
There are no upcoming broadcasts of this programme
Last on
Sat 21 Jan 2017 23:00
BBC Radio 4
Questions
To play along with the panellists and read the full text of the questions each week, just click on the relevant programme date above.
Get In Touch
If you would like to submit a question for Round Britain Quiz please get in touch via the link below.
Contact us
Results 2016
The latest Round Britain Quiz series ended with the final rankings as follows: 
1  WALES   Won 4 Drawn 0 Lost 0 Points 87
2  SOUTH OF ENGLAND   Won 2 Drawn 0 Lost 2 Points 77 
3  NORTH OF ENGLAND   Won 2 Drawn 0 Lost 2 Points 73
4  NORTHERN IRELAND   Won 2 Drawn 0 Lost 2 Points 62
5  SCOTLAND   Won 1 Drawn 0 Lost 3 Points 70
6  MIDLANDS   Won 1 Drawn 0 Lost 3 Points 65
Meet The Teams
THE MIDLANDS
Stephen Maddock is Chief Executive of the City of Birmingham Symphony Orchestra. Before joining the CBSO he worked at the BBC Proms for seven years. He is a lapsed violinist, singer and conductor, as well as a quiz and crossword addict and a proud Man City fan. He lives in Solihull with his wife and two children.
Rosalind Miles is an award-winning author of fiction and non-fiction, including The Women's History of the World and the acclaimed historical series featuring Guenevere and Isolde. As a journalist and broadcaster, she has contributed to many periodicals and programmes at home and overseas.
NORTHERN IRELAND
Polly Devlin OBE is a writer. Her first book All of Us There is a Virago Modern Classic, and her most recent book is A Year in the Life of an English Meadow.
Brian Feeney is a respected historian, columnist and commentator, the author of a number of books including Sinn Fein: one hundred turbulent years, A Pocket History of The Troubles, and co-author of the award-winning Lost Lives: the stories of the men, women and children who died as a result of the Northern Ireland troubles. His latest book Seán MacDiarmada is one of a series called 16 Lives -biographies of the sixteen men executed after the 1916 Rising in Ireland.
NORTH OF ENGLAND
Adèle Geras was born in Jerusalem and lived in Manchester for 43 years before moving to Cambridge in 2010. She has published more than 90 titles for young readers and a collection of poetry. Her Young Adult novel, Troy, was shortlisted for the Whitbread Award and Highly Commended for the Carnegie Medal.  She has written five novels for adults, most recently Cover Your Eyes and Out Of The Dark which was one of 2015's Quick Read titles. She has written seven novels for adults, most recently Love Or Nearest Offer, published in August 2016.
Stuart Maconie is one of Britain's highest profile authors and broadcasters. His many bestselling non-fiction titles include Pies and Prejudice, Cider With Roadies, Adventures on the High Teas and The People's Songs: The Story of Modern Britain in 50 Records.  He hosts his own BBC 6Music programme as well as a daily show with Mark Radcliffe, and his latest project is a blog and book following the route of the 1936 Jarrow March.
SCOTLAND
Alan McCredie is a photographer and filmmaker. He is the author of three books 100 Weeks of Scotland, This Is Scotland and Scotland The Dreich. He is also a guest lecturer in Photography at Edinburgh College, and is currently in the midst of a long form photo-story project on Edinburgh's Royal Lyceum Theatre entitled A View From The Wings. He is married with two children and is a Perthshire lad lost to the post-industrial wilds of Leith, which he is very happy about.
Val McDermid is the broadcaster and writer known as the queen of the psychological thriller.  A former journalist, her novels include The Skeleton Road, The Wire In The Blood, A Place of Execution and Splinter The Silence. Her latest novel is Out of Bounds, in the Karen Pirie series. Originally from Kirkcaldy, Val is a devotee of Raith Rovers FC.
SOUTH OF ENGLAND
Paul Sinha is a stand-up comedian, professional quizzer and sports fanatic. Born in the UK to Bengali parents, he qualified as a doctor in the 1990s before establishing himself on the stand-up comedy circuit. His own comedy series can be heard on Radio 4, as can his regular appearances on panel shows such as The News Quiz. He is also well known to audiences of ITV's quiz show The Chase, as the Chaser and general knowledge expert, The Sinnerman.
Marcus Berkmann writes a weekly column for The Independent, is the film critic for The Oldie and contributes regularly to Private Eye. He has written books about cricket, quizzes, fatherhood and middle age and his next book,
Set Phasers To Stun
, celebrating fifty years of Star Trek, is out in March.
WALES
Myfanwy Alexander is a writer and broadcaster, casting a satirical eye over life in Wales and beyond from her home in Montgomeryshire.
David Edwards is a son of Barry and a former physics teacher. He was the first person ever to be both Mastermind champion (in 1990) and winner of the jackpot on Who Wants To Be A Millionaire. Before joining Round Britain Quiz he set questions for the programme, and also appeared as a panellist on the Radio 4 quiz series X Marks The Spot.