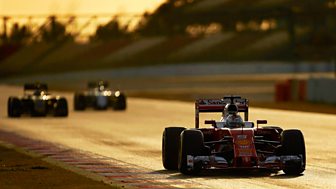 5 live Formula 1
News, reports, commentary and features from the world of Formula 1
On radio
Today 06:55
BBC Radio 5 live sports extra
All upcoming (8 new)
Nico Rosberg wins the Singapore Grand Prix by 0.4 seconds.

Kimi Raikkonen overtakes a struggling Lewis Hamilton to take third

Lewis Hamilton shows his displeasure at the team pit strategy

Nico Hulkenberg crashes into the pit straight wall at the start.

Nico Rosberg wins back-to-back races to close championship gap to two points.

Fernando Alonso delayed by broken pit box traffic lights.
Formula 1 - 2016 season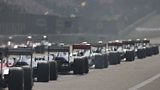 Australian Grand Prix - Melbourne, March 18-20
Bahrain Grand Prix - Sakhir, April 1-3
Chinese Grand Prix - Shanghai, 15-17 April
Russian Grand Prix - Sochi, April 29-May 1
Spanish Grand Prix - Barcelona, 13-15 May
Monaco Grand Prix - Monte Carlo, 26, 28-29 May
Canadian Grand Prix - Montreal, 10-12 June
Azerbaijan Grand Prix - Baku, 17-19 June
Austrian Grand Prix - Spielberg, 1-3 July
British Grand Prix - Silverstone, 8-10 July
Hungarian Grand Prix - Budapest, 22-24 July
German Grand Prix - Hockenheim, 29-31 July
Belgian Grand Prix - Spa-Francorchamps, 26-28 August
Italian Grand Prix - Monza, 2-4 September
Singapore Grand Prix - Singapore, 16-18 September
Malaysian Grand Prix - Kuala Lumpur, 30 September - 2 October
Japanese Grand Prix - Suzuka, 7-9 October
United States Grand Prix - Austin, 21-23 October
Mexican Grand Prix - Mexico City, 28-30 October
Brazilian Grand Prix - Sao Paulo, 11-13 November
Abu Dhabi Grand Prix - Yas Marina, 25-27 November