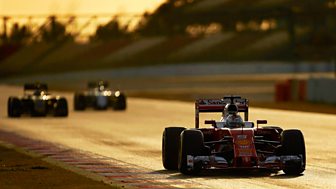 5 live Formula 1
News, reports, commentary and features from the world of Formula 1
Nico Rosberg wins the Japanese Grand Prix for the first time.

Lewis Hamilton's last gasp move on Max Verstappen fails.

Sebastian Vettel complains about a lack of blue flags.

Lewis Hamilton drops from 2nd to 8th on the opening lap

Daniel Ricciardo wins his first Grand Prix since 2014.

Lewis Hamilton wants answers from Mercedes about his technical failures.

Max Verstappen reacts to Sebastian Vettel's first corner crash

Sebastian Vettel out of the race after hitting Nico Rosberg at the first corner.
Formula 1 - 2016 season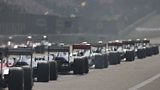 Australian Grand Prix - Melbourne, March 18-20
Bahrain Grand Prix - Sakhir, April 1-3
Chinese Grand Prix - Shanghai, 15-17 April
Russian Grand Prix - Sochi, April 29-May 1
Spanish Grand Prix - Barcelona, 13-15 May
Monaco Grand Prix - Monte Carlo, 26, 28-29 May
Canadian Grand Prix - Montreal, 10-12 June
Azerbaijan Grand Prix - Baku, 17-19 June
Austrian Grand Prix - Spielberg, 1-3 July
British Grand Prix - Silverstone, 8-10 July
Hungarian Grand Prix - Budapest, 22-24 July
German Grand Prix - Hockenheim, 29-31 July
Belgian Grand Prix - Spa-Francorchamps, 26-28 August
Italian Grand Prix - Monza, 2-4 September
Singapore Grand Prix - Singapore, 16-18 September
Malaysian Grand Prix - Kuala Lumpur, 30 September - 2 October
Japanese Grand Prix - Suzuka, 7-9 October
United States Grand Prix - Austin, 21-23 October
Mexican Grand Prix - Mexico City, 28-30 October
Brazilian Grand Prix - Sao Paulo, 11-13 November
Abu Dhabi Grand Prix - Yas Marina, 25-27 November