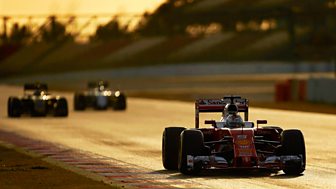 5 live Formula 1
News, reports, commentary and features from the world of Formula 1
On radio
There are no upcoming broadcasts of this programme
Last on
Thu 16 Feb 2017 19:30
BBC Radio 5 live
Mercedes boss opens up about the lengths he went to in order to sign Valtteri Bottas.

Brawn says that change is needed throughout the whole of F1.

Toto Wolff and Ross Brawn pay tribute to Bernie Ecclestone.

Ross Brawn says F1 fans want 'simplicity, overtaking and close-racing'

Nico Rosberg reacts to his maiden world championship win

Nico Rosberg's wife Vivian Sibold cannot contain her delight.

Rosberg finishes 2nd to win his first career world title

Jenson Button suffers a mechanical failure in his final race

Former F1 driver Allan McNish pays tribute to the retiring Jenson Button.
Formula 1 - 2016 season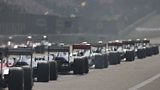 Australian Grand Prix - Melbourne, March 18-20
Bahrain Grand Prix - Sakhir, April 1-3
Chinese Grand Prix - Shanghai, 15-17 April
Russian Grand Prix - Sochi, April 29-May 1
Spanish Grand Prix - Barcelona, 13-15 May
Monaco Grand Prix - Monte Carlo, 26, 28-29 May
Canadian Grand Prix - Montreal, 10-12 June
Azerbaijan Grand Prix - Baku, 17-19 June
Austrian Grand Prix - Spielberg, 1-3 July
British Grand Prix - Silverstone, 8-10 July
Hungarian Grand Prix - Budapest, 22-24 July
German Grand Prix - Hockenheim, 29-31 July
Belgian Grand Prix - Spa-Francorchamps, 26-28 August
Italian Grand Prix - Monza, 2-4 September
Singapore Grand Prix - Singapore, 16-18 September
Malaysian Grand Prix - Kuala Lumpur, 30 September - 2 October
Japanese Grand Prix - Suzuka, 7-9 October
United States Grand Prix - Austin, 21-23 October
Mexican Grand Prix - Mexico City, 28-30 October
Brazilian Grand Prix - Sao Paulo, 11-13 November
Abu Dhabi Grand Prix - Yas Marina, 25-27 November