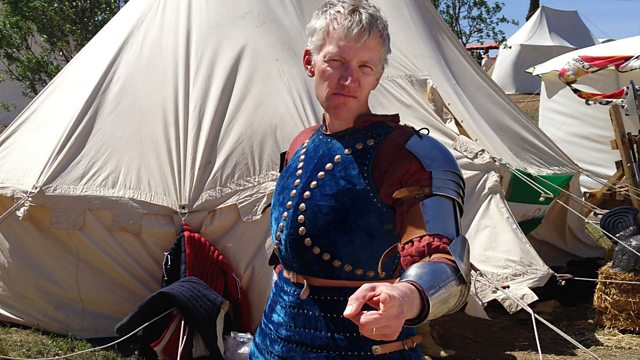 Wickham Psychiatric Hospital - London Life after the Romans - Captain Pugwash and the Concertina
Wickham Psychiatric Hospital
A Making History listener came across some iron crosses marking the graves of former patients of the Wickham Psychiatric Hospital at Knowle near Fareham in Hampshire. The asylum was opened in the 1850's and the graveyard is half a mile away from the hospital in a small copse. There are few stone memorials, just iron crosses with numbers and not names on them. "Were all inmates buried like this?" Making History consulted Dr Susan Burt who wrote her PhD thesis on the Wickham Asylum.
Life in London after the Romans
Francis Grew from the Museum of London revealed new finds which point to greater continuity between Roman and Saxon London. These finds are the subject of a new exhibition which is open until the beginning of August.
The extraordinary finds, from an archaeological dig at the church of St Martin-in-the-Fields, Trafalgar Square, include a stone sarcophagus containing the skeleton of a middle aged Roman man, and exquisite Saxon grave goods. Ranging from AD410 to 600, the finds offer tantalising clues to a previously hidden period in London's history. London's story usually features a ghostly two hundred year silence between the end of Roman Londinium and the settlement of Saxon Lundenwic, further to the west.
The finds going on display at the Museum are challenging archaeologists' long held belief that the two were unconnected. The stone sarcophagus contains a man who died around AD410. His limestone coffin suggests he was a man of considerable wealth and high standing. A kiln for making tiles found near to his grave points to Roman building work, well outside the walls of the city, at the very time when Londinium was falling into ruin. He appears to be a man out of time and out of place.
Captain Pugwash and the Concertina
Has our understanding of the music played on board ship in the eighteenth and nineteenth century been clouded by the music of Captain Pugwash?
Making History spoke to traditional musician John Kirkpatrick. He confirmed that most music at sea (indeed most traditional singing) was unaccompanied. The concertina would not have been a good instrument on board ship: they are made of wood that swells when it gets damp, leather that is unpredictable and rots when wet and has brass or steel "free reeds" that either go out of tune quickly or corrodes respectively. Furthermore, the instrument wasn't invented until the 1820's. It was the folk revivalists of the twentieth century who added musical accompaniments to traditional singing.
Last on