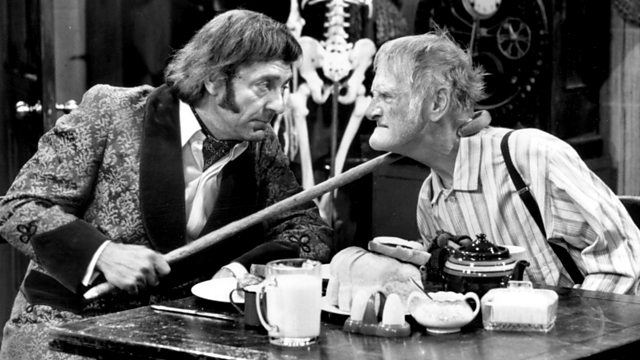 The Big Steptoe Radio Show: Ray Galton and Alan Simpson
The men behind the legendary rag-and-bone men comedy, writers Ray Galton and Alan Simpson, present their favourite Steptoe and Son episodes.
This includes the very first episode, 'The Offer', originally featured in the first series of BBC1 TV's long-running 'Comedy Playhouse'. All ten episodes were penned by Ray and Alan. The series was seen as a sweetener for the writers, who'd recently parted company with Tony Hancock. Despite the series of one-offs containing several strong concepts, 'The Offer' was the only one to progress from pilot to development. This aired in January 1962, followed by the first Steptoe series in June.
Revealing how the series was created, the duo also explain why it prompted concerns in Parliament.
Featuring: The Offer (03/7/66), Pilgrim's Progress (18/06/67), Crossed Swords (30/07/67), The Desperate Hours (26/5/74), Oh What a Beautiful Mourning (15/02/76), and Seance in a Wet Rag and Bone Yard (28/03/76)
Produced by Sarah Wade. First broadcast in 2006.