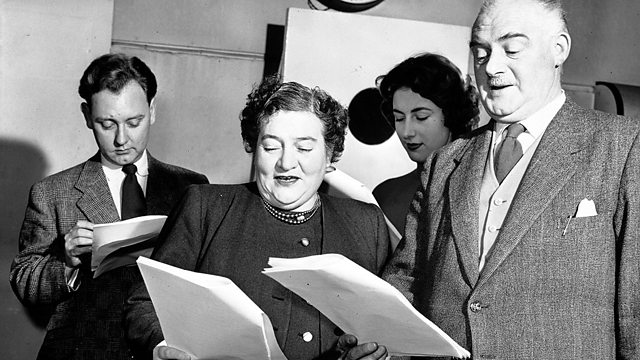 Radio Soaps
Tim Bentinck - aka the dependable David Archer from BBC Radio 4's The Archers - brings you all the dramas in the history of BBC radio soaps. Brace yourself to re-live the all daily goings on from serials past and present:
* MRS DALE'S DIARY
[05/01/1948] "I'm rather worried about Jim". The catchphrase of doctor's wife Mary Dale is still fondly remembered from the serial that run for 21 years based on her daily diary of life with husband Jim and children, Bob and Gwen. Starring Ellis Powell.
In the very first episode from 5th January 1948 at 4pm on the BBC Light Programme, the Dales are preparing to move to Parkwood Hill.
[01/11/1960] Senator Kennedy has just been elected President of the USA. Great Aunt Hester arrives from Canada - and she's brought with her a rather strange sounding family...
* WAGGONER'S WALK
[28/04/1969] 'Moving Pictures' This was BBC Radio 2's replacement for The Dales (as Mrs Dale's Diary was later called) In this very first episode from 28th April 1969 at 4.45pm - Sixties London is still swinging with three women sharing a flat in Hampstead. Sisters Lyn and Tracy find their new flatmate Barbara a bit square - and there's drama over a painting.
[21/02/1977] Eight years later and it's the year of the Queen's Silver Jubilee. Lyn has managed to marry and divorce her first husband and is on husband number two. Sister Tracy married an American and has a child. Tackling some tough storylines, Waggoner's Walk ran for 11 years until it was rapidly axed in 1980 after a BBC economy drive
* CITIZENS
[27/10/1987] The very first episode of BBC Radio 4's soap opera charting the lives of the residents of Limerick Road in the fictional London suburb of Ditcham. Stars Russell Boulter. Hear why the critics at the time weren't too impressed.
[04/07/1991] Four years later and the end is nigh for the residents of Ditcham with shock news of a kidnapping. 388 episodes of Citizens were broadcast twice a week until 25th July 1991.
* WESTWAY
[21/08/1999] This was the BBC World Service's very own soap which ran for 8 years - branding it " a slice of contemporary London life" set in a health centre.
In this episode, the matriarch and heart of Westway Health Centre, Dr Margaret Sampson is coming to terms with the death of her husband Mike - and his unconventional plans for his own funeral.
* THE ARCHERS
[23/09/1955] Essential drama from the heart of the country. The world's longest running soap opera began in 1951 on the BBC Home Service and is still going strong on BBC Radio 4. In this classic melodramatic episode, Grace Archer - recently married to Phil - gets trapped in a stable fire. Will she survive? Will she manage to wreck the opening of Associated-Rediffusion as ITV was launched London?
[14/05/1978] Its back to Brian's early days of marriage to Jennifer and a blonde siren called Eva was their German au pair.
Produced by Jayne Gibson.