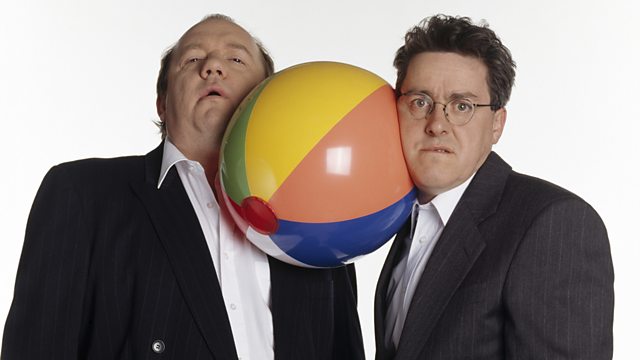 Alas Smith and Jones
Series charting the history of the best of British comedy looks at Mel Smith and Griff Rhys Jones's comedy sketch show that dominated ratings throughout the 1980s.
It reveals how Smith and Jones first met at university, how they were then thrown together as part of the Not the Nine O'Clock News team, and that the two had very different working styles, with Mel being relaxed and avuncular while Griff was the worrier, who slaved over tweaking and memorising his lines.
It also shows how the two co-ordinated a team of writing talent that would go on to careers in front of the camera. Rory McGrath, Jimmy Mulville and Clive Anderson were all Smith and Jones stalwarts. Graham Linehan and Arthur Mathews, creators of Father Ted, also served their time with Griff and Mel.
Mel Smith and Griff Rhys Jones took a partnership formed on Not The Nine O'clock News and produced material that still influences television comedy today. They moved from BBC Two to BBC One and at the same time founded their own company, Talkback, which would become one of the most successful TV production companies in the country. Both would go on to pursue other career interests, Griff as a presenter, Mel as a film and theatre director, but it is their partnership as Smith and Jones, with the famous head-to-head formats and the brilliant on-screen dynamic between the two, that is at the heart of much of their success.
Last on
Credits
| Role | Contributor |
| --- | --- |
| Narrator | Doon Mackichan |
| Participant | Mel Smith |
| Participant | Griff Rhys Jones |
| Participant | Clive Anderson |
| Participant | Rory McGrath |
| Participant | Jimmy Mulville |
| Participant | Graham Linehan |
| Participant | Arthur Mathews |
| Participant | Martin Shardlow |
| Participant | Robin Driscoll |
| Participant | John Howard Davis |
| Participant | Peter Fincham |
| Director | Kevin McMunigal |
| Series Producer | Graham Mitchell |